Glynn_Seans dwarf warband conversions
Preamble
Hey guys, I'm getting back into mordheim after a long hiatus, I'm trying to get a friend into it as well and I'm making a new warband or two and some terrain to use so there's  bit to go through. I'll make a separate thread for the terrain but we'll see how we go as to when that'll be. I wrote a guide for the gear lists and so on just for some context on what the units have and so on. Let me know what you think! I'll post updates as I go.
What I'm using
I've always disliked how static the
dwarf
poses are and I wanted to endeavor to make some units that look a bit more active, I think this fits the setting more. I'm also a pretty frugal person so I've done my best to keep costs to a minimum but I'll price things as we go.

Models
I decided to go with the new
dwarf
blood bowl kit from GW, all the models have a lot of character and  some great poses, I also like that they aren't as heavily armored as their Age of Sigmar counterparts, I like the idea of a quickly moving
dwarf
party and the no armor thing fits my warband list so this is good. The only downside is the standard hefty price tag at $55 (AUD) these guys don't come cheap, but they are nice models and I feel a bit less bad since I don't need many to play.
Side note:
I almost used the Arkanaut Company
dwarf
kit, I really liked the look of them but they look a bit too age of
sigmary
for what I was going for and they are $70 which was just that but too much to stomach for me.
You get two of these sprues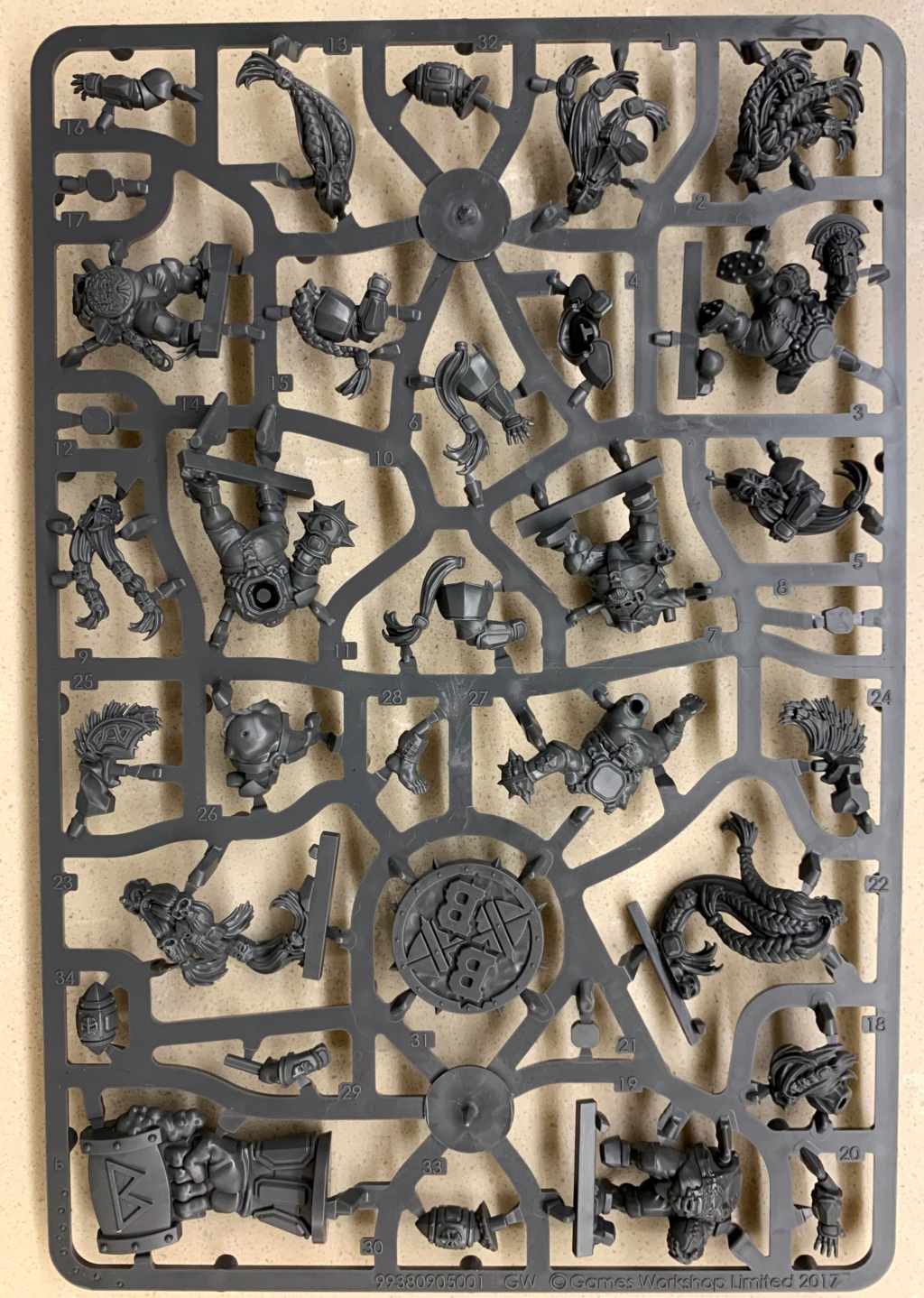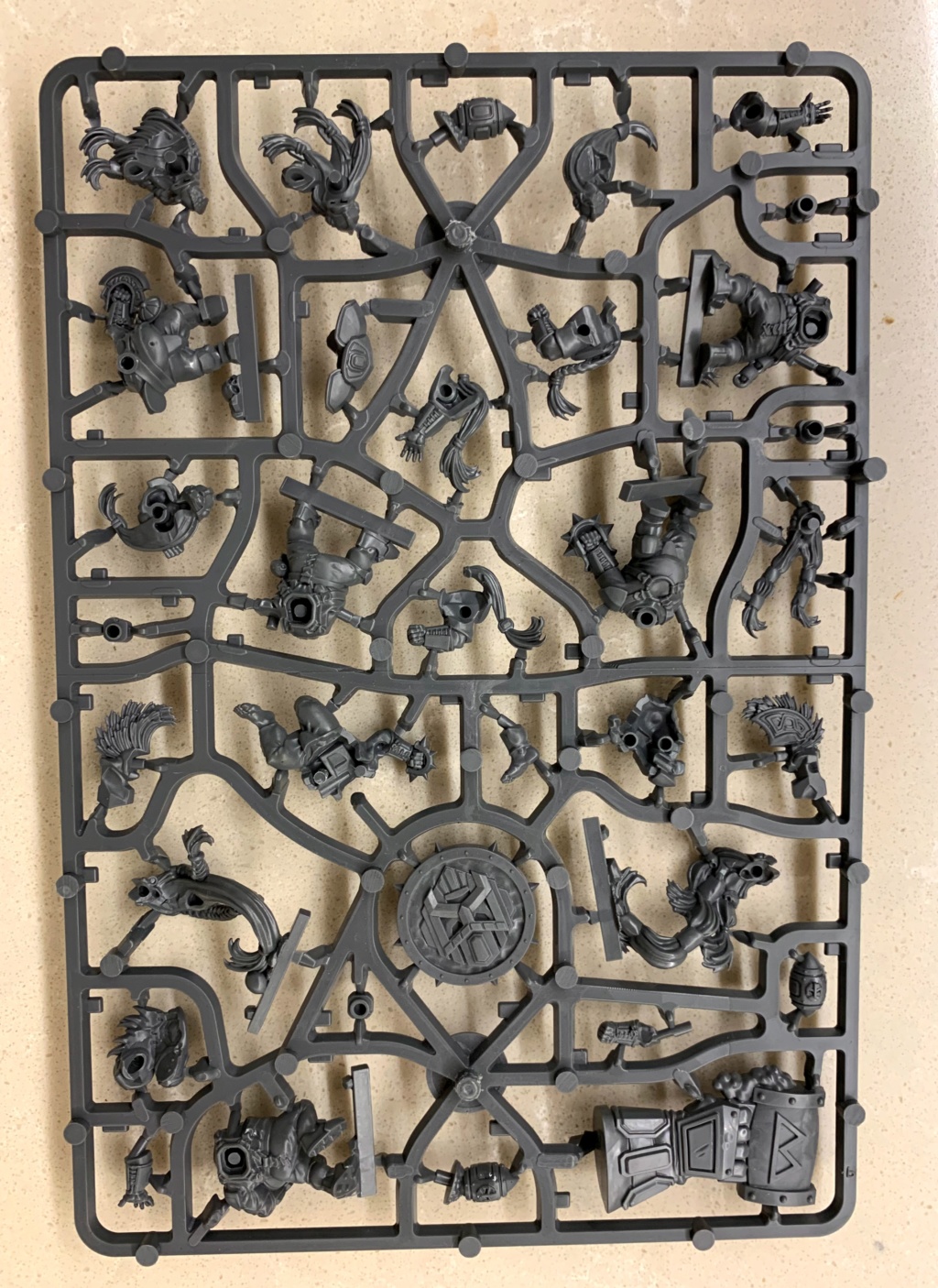 I loved that you get two sets of the alternate heads for the models, faces are hard to sculpt and there's a lot of potential to use these to help with the models that don't have extra heads at all. Otherwise the models were pretty easy to put together.
I've also used some bits from varying kits but I'll go more into detail as we go into each model.
Tools
So far I've used
GW green stuff
- 36" for $21: I use this to sculpt where I need and to help join joints and fill in gaps as I go, I'm not a very established sculpted so each time I use it it's equal parts exploration and google references. I got this from mind games but I'll probably get it online from now on for cheaper.
GW plastic glue
- $16: expensive and self explanatory
0.70mm steel wire
- 70m roll for $7: I got this from Bunnings, I use it to strengthen small joints, this will be handy here for dynamic poses if I change arms and such or for any long stringy bits.
A hobby knife kit from my local $2 shop
- $4: this thing is such good value, it cost me almost nothing and it comes with a stack of different shaped heads, the handles need tightening from time to time or the heads start to move but it's a small inconvenience.
A small flat head screwdriver kit from my local $2 shop
- $4: same shop same deal, great value, I'm going to use these for sculpting when I need to, between my bobby knife, These and a poking tool of some descript I'll covered.
Trojan small multi file set
- $7: these are for cleaning bits up so they are smooth and easy to stick together, they're sturdy little things, I was surprised how good they've been.
Trojan wire cutters
- $5: for clipping sprues and cutting the steel wire, they aren't bad for holding things too.
A small pair of rounded pliers
- free from my friend G: I just use these to hold things while I'm working on them.
Beardling 1
So first I started with one of my beardlings, this model was the first one I had an idea for when I saw it. At first I thought about putting a shield in his left hand covering his front and then clip his hand to attach a hand holding a hammer. But then. I thought that the open hand at the back looked cool almost like he was about to catch something so I had the idea of him pulling his axe towards him with a wrist grip.
For the axe I used a rope form the empire flagellents kit and cut then end off it, I think the axe is from a
dwarf
warrior or
dwarf
hammerers kit? Not sure but I filed the ends of the two and then put the hole in the rope over my dwarfs hand until I found a nice wedge for it on the wrist/hand connection.
I was surprised how sturdy the connection is, I've bumped it a few times now and it's been fine, it's about as sturdy and any other long stringy plastic but
Then I used one if the knives in the 40k scions kit for his front hand and a little pouch from the same kit for his butt to help balance out the model a bit as I felt it was both too too heavy and too left heavy before hand
I know my roster says hammer but when I get a this lads got talent roll I build towards an axe for them usually and I didn't have a cool hammer model with no hands on it lying around, maybe it's a blunt axe or something in the mean time for the sake of realism.
Thunderer 1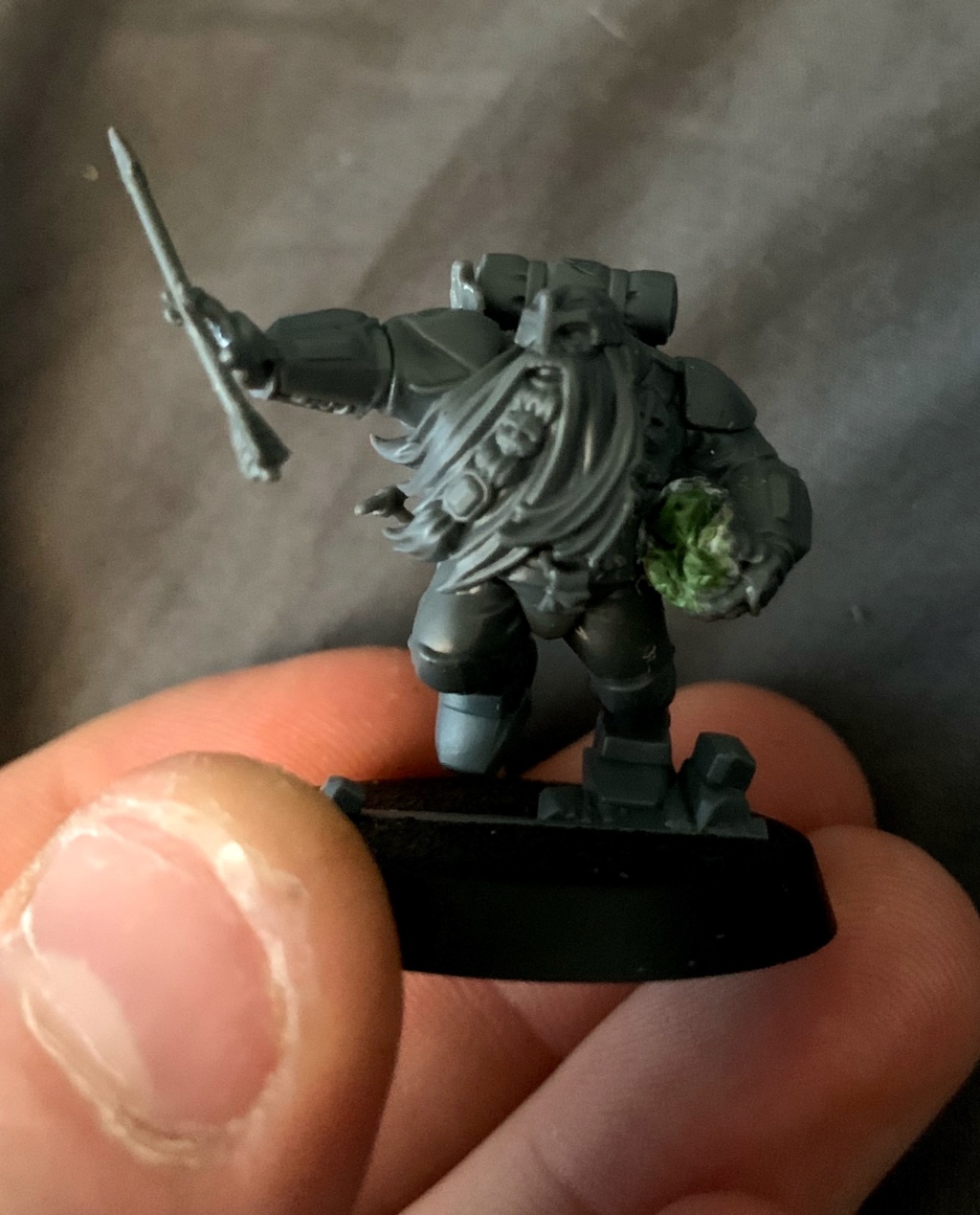 Anyway next we have my thunderer. I couldn't figure hour how to deal with the football in this guys arms but I clicked and figured I could convert it into a crystal of Wyrstone. I also like that this guy is an eye patch.
It was hard to do the crystal and I'm still building layer by layer but you get the idea of a shape I'm going for. I put a wire through to give a direction marker on each side and to help hold the larger piece at the bottom.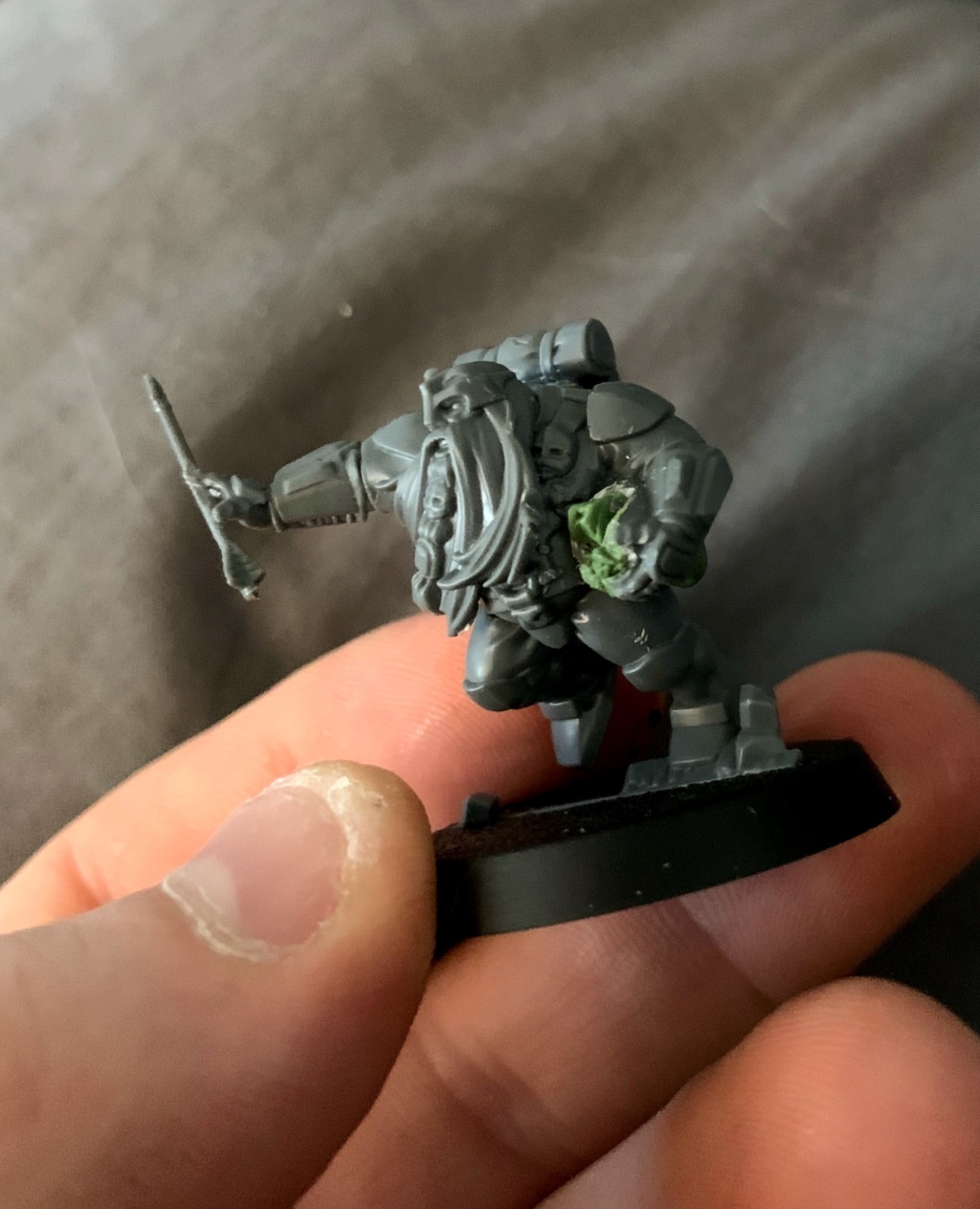 I used one of the 40k scion backpacks and cut the little pipes off the sides and glued the crossbow to the side of the pack. I like that this pack has a knife on it, this model doesn't have a melee weapon other than a knife at the start so that was important to me.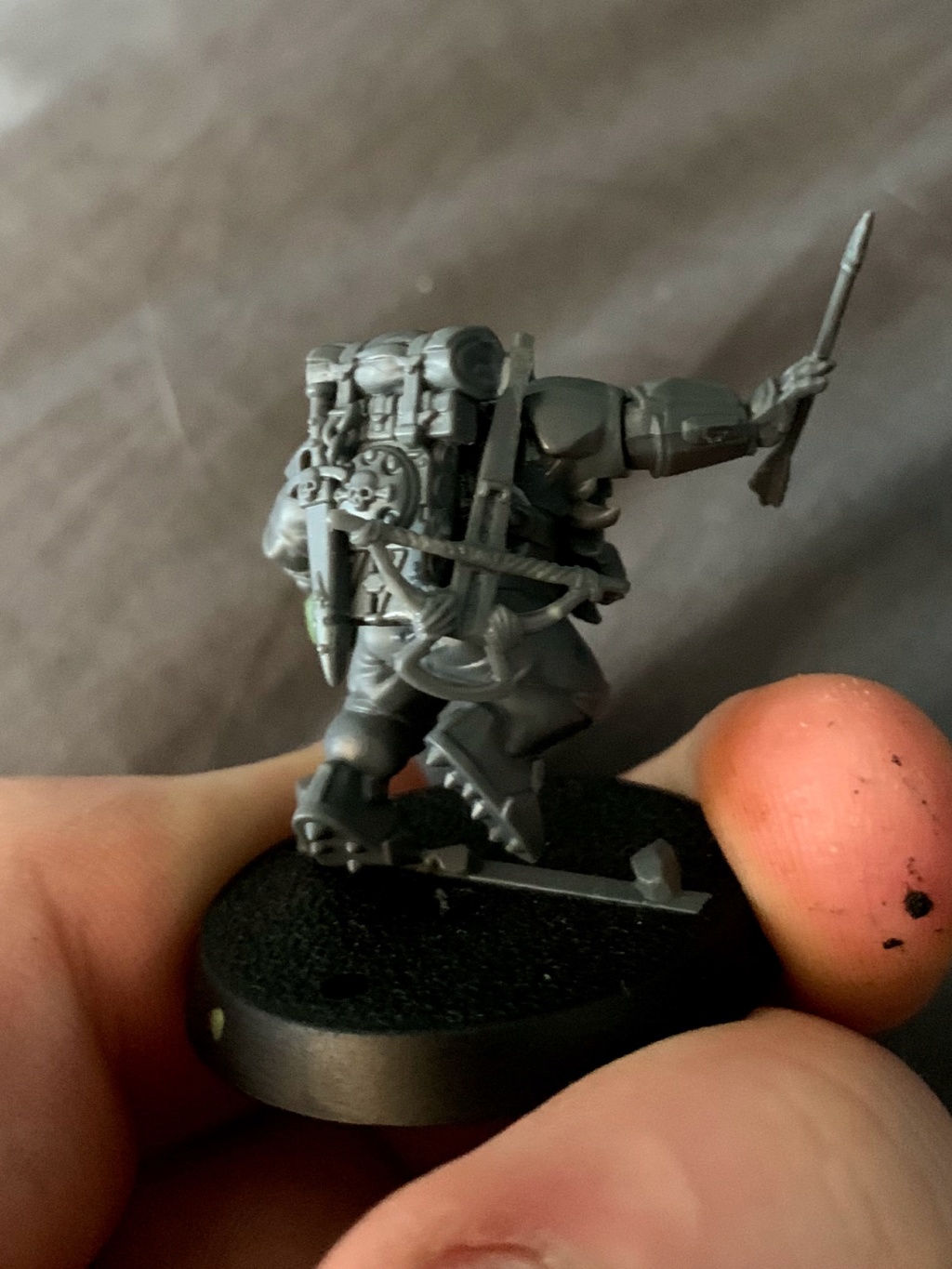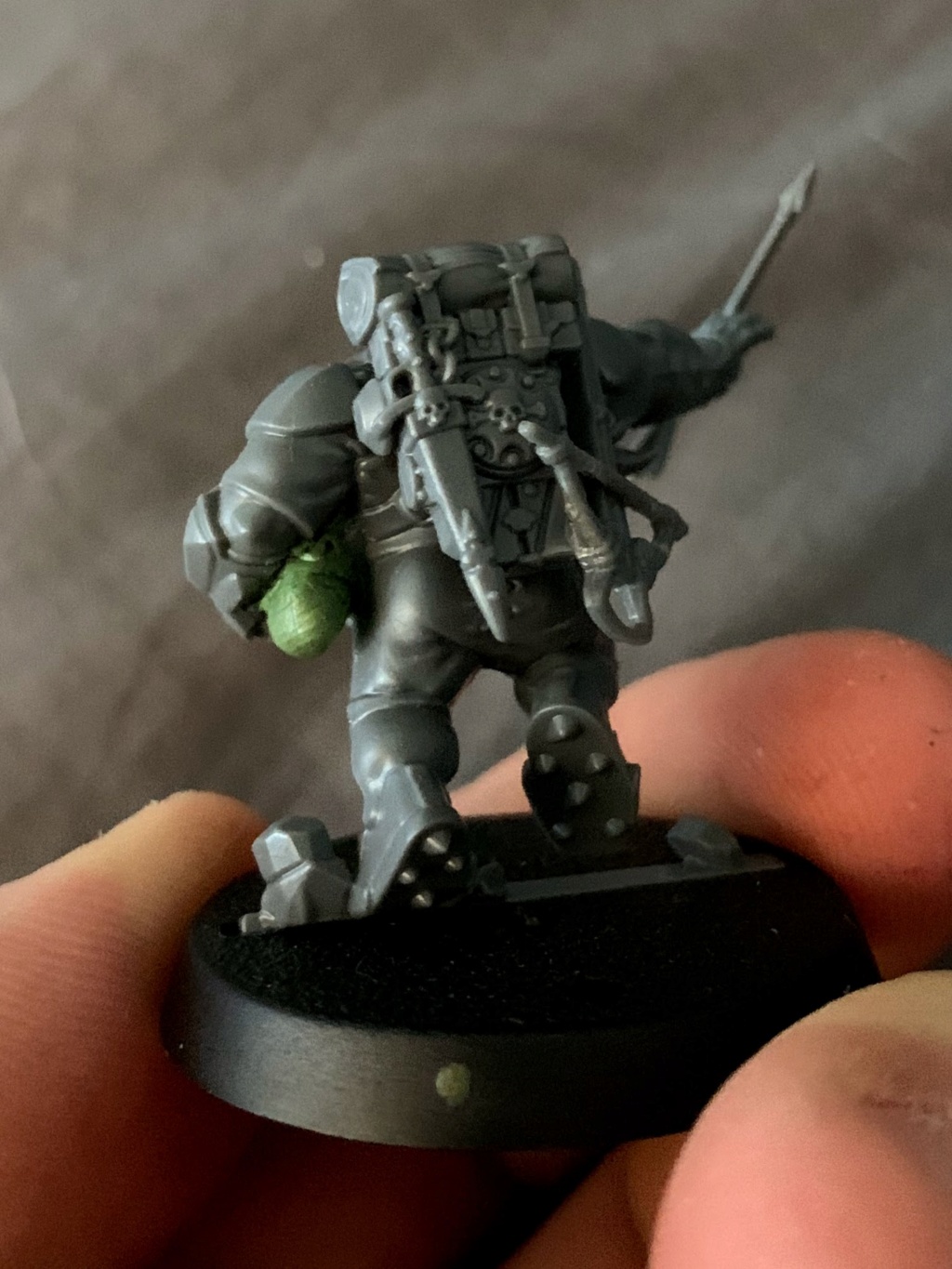 Then I moved on to the hand, I had an empire archers kit lying around that had some arrows on it, one of the loose ones I took of and wanted to put it between the dwarfs fingers as if he was spinning it into his palm to use it in melee after picking up the Wyrdstone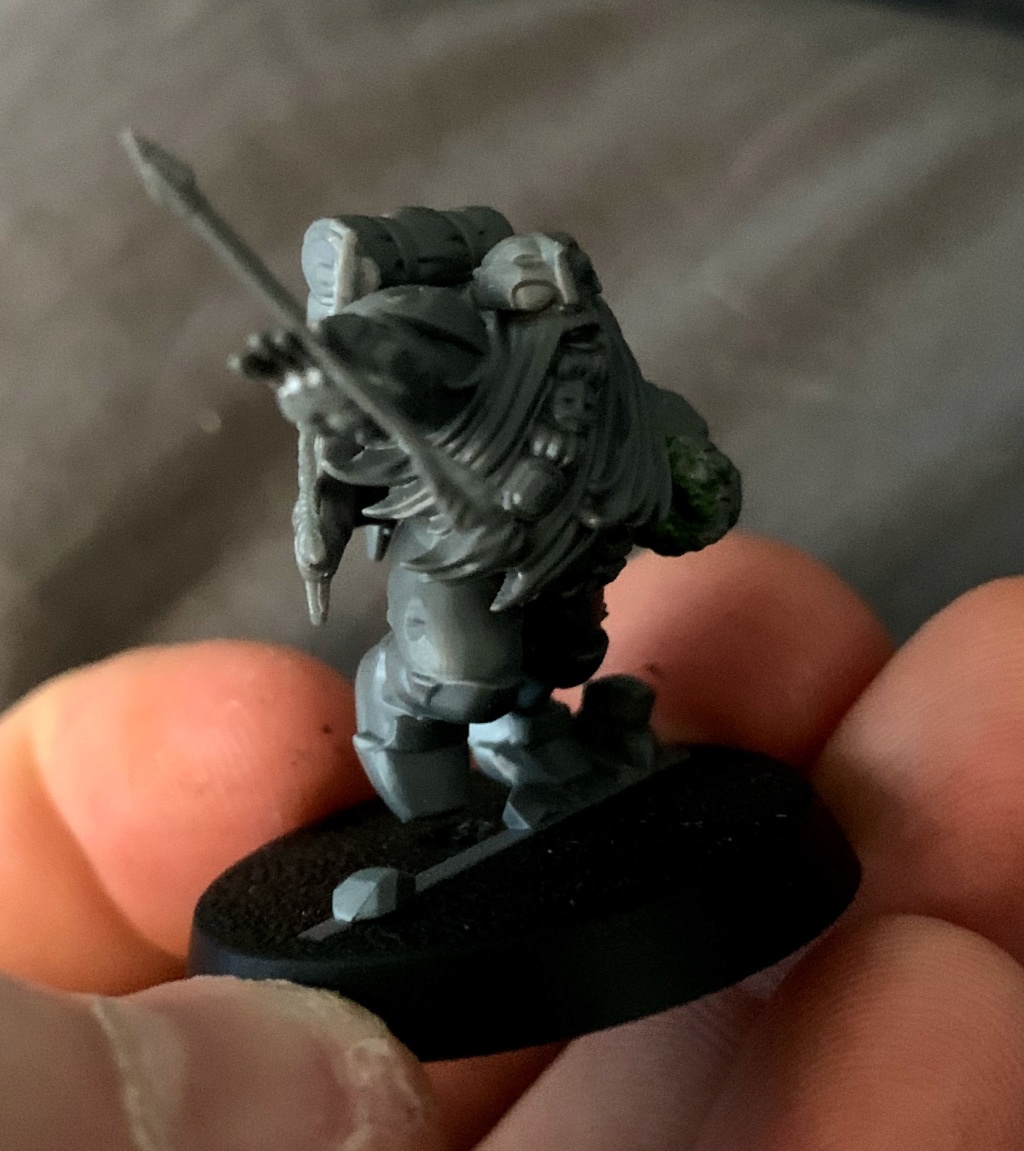 I flayed the side of the arrow slightly with my hobby knife So I could get it between his fingers for a good connection and so it looked right, it's quite sturdy now.
Still going with this guy but he's come together nicely so far, maybe somewhere to put his bolts in the future.
Noble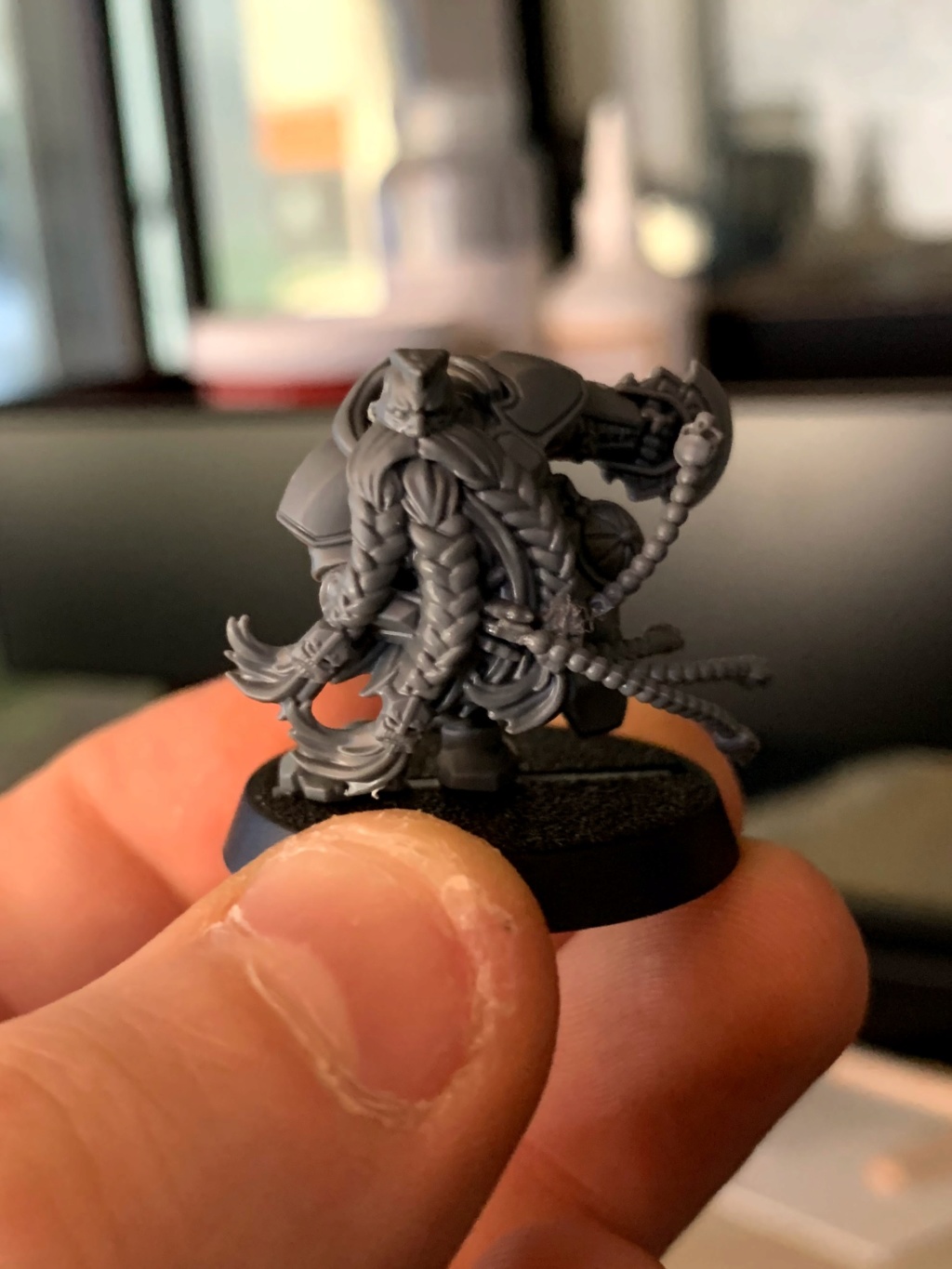 Now my leader! He's a rather simple conversion so far and I'm open to suggestions to mix it up, I'm thinking about doing a cool integrated base for him but I'm
Not sure yet.
So I love the hand blade thing he has already and I'm going to treat it as a
dwarf
axe, the hand in the beard was cool and at first I wanted to put a knife in there but the 40k scion kit had some great wavy beads with skulls on the end that were attached to a standard. I clipped those up and stuck one on the front and a few on the back of the beard so it looks like he's holding war beads of some descript.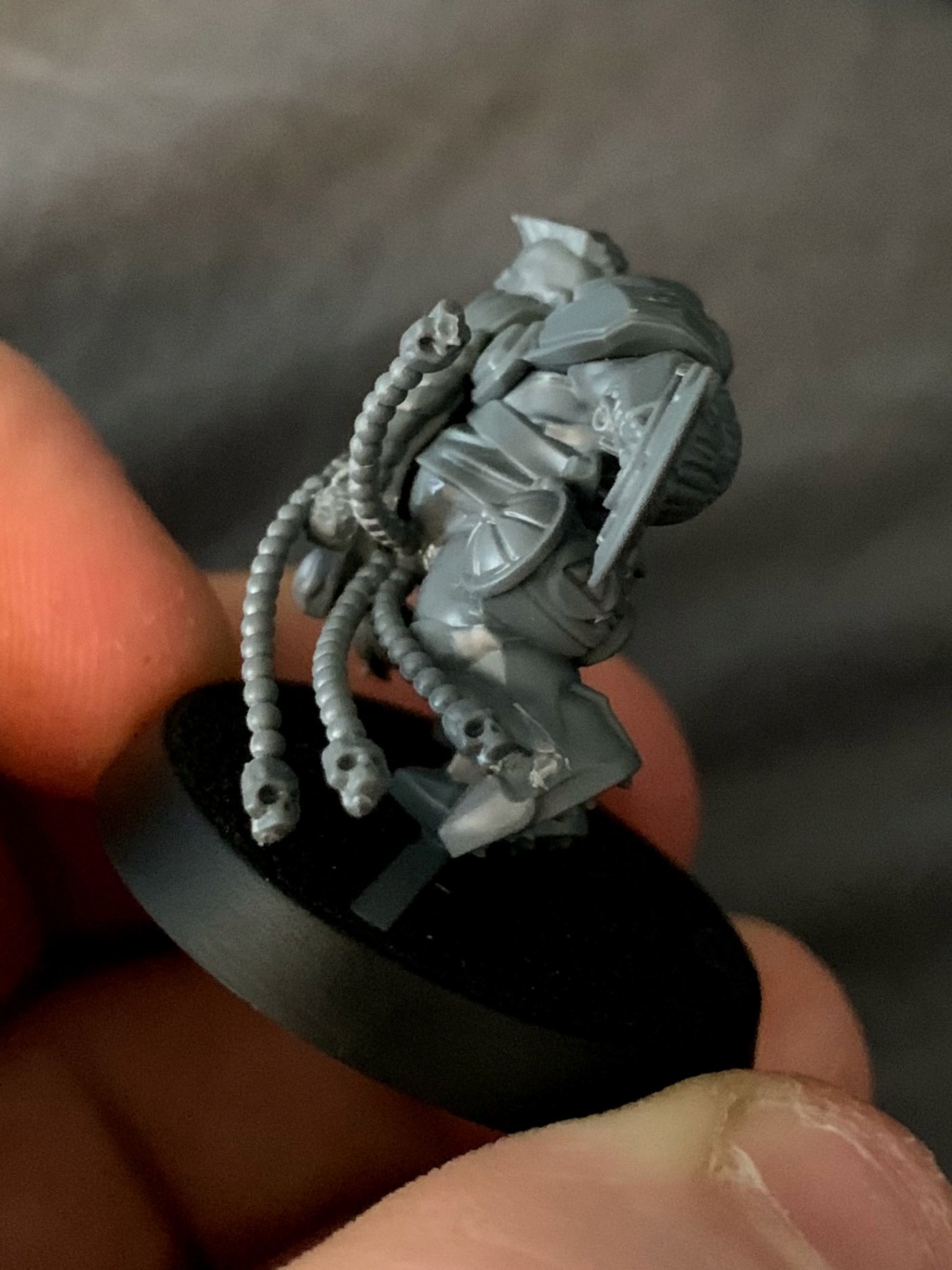 I had to clip the end of the front one to slide it between his fingers and make it look organic but I love the end result.
Then I moved onto the back, I wanted to distinguish the models armor more than just the thicker shoulder plate and I also felt like the model was too top heavy with this plate. I took two
dwarf
gold coins? from the avatars of war slayer kit, these things are so tiny and I stuck them on with my player tool, I put one on his back plate on the center to help stagger the slope form his shoulder gem and then one on the base of the ale mug on his hip to add detail.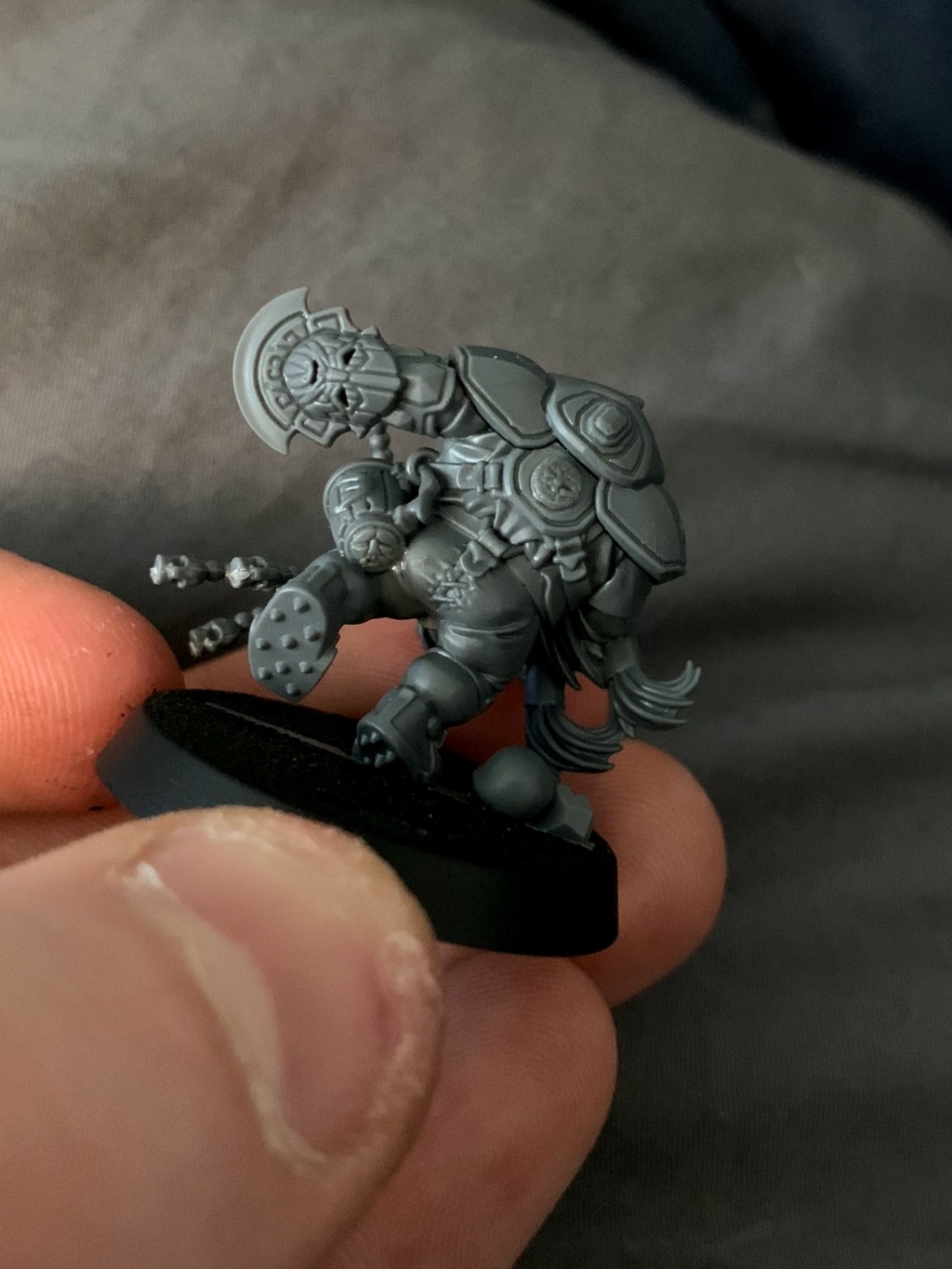 I'll probably put a pouch to balance his booty with the mug but otherwise he's shaping up nicely.
Engineer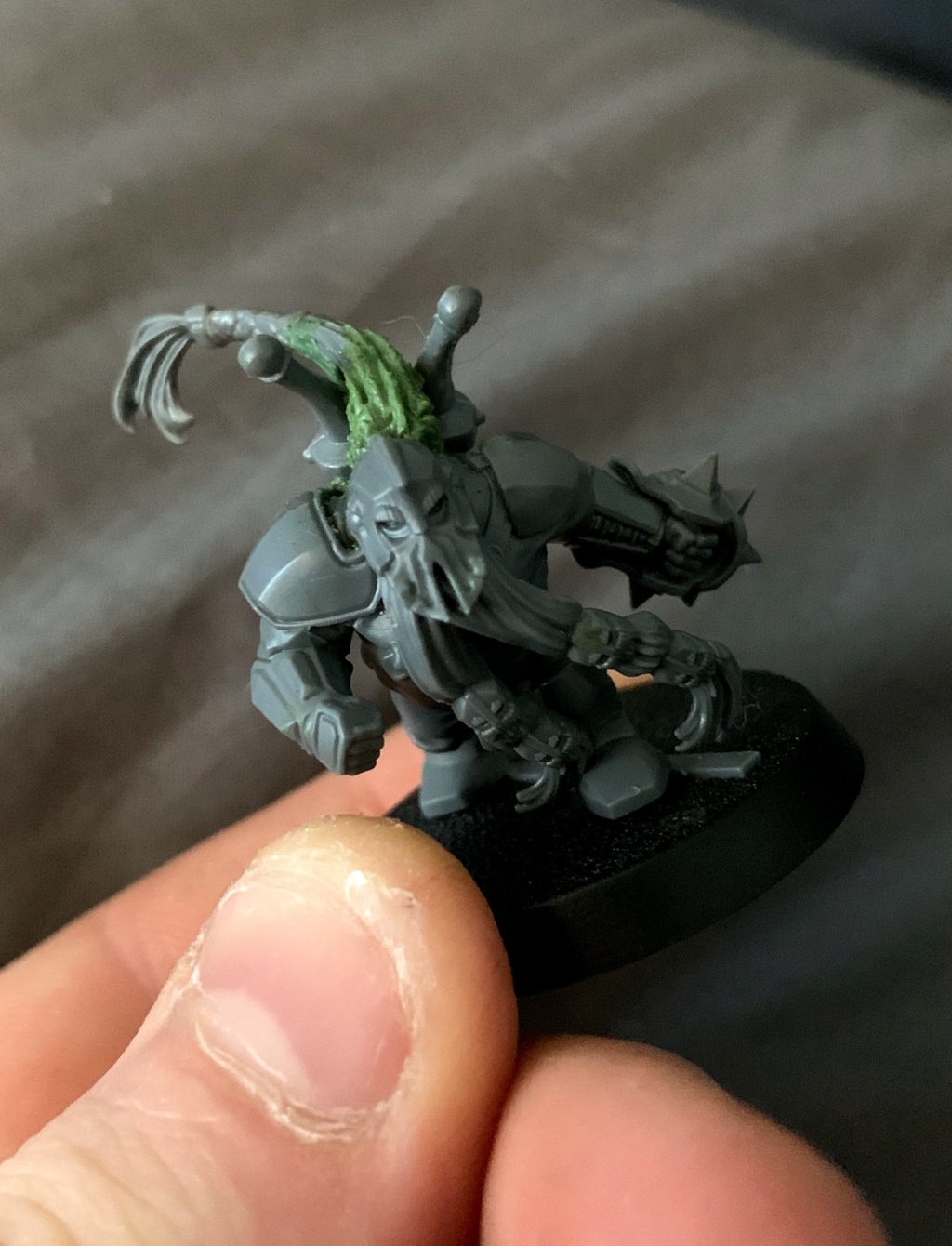 Now my engineer, probably the one I've struggled with the most so far, I clipped the hair off the back of this model to put my pistol brace on his back, I used a bit from the empire riders kit. Then I used three separate bits and some green stuff to re assemble the hair into a different direction so it didn't get in the way of the pistol. The middle section is from the avatars of war slayer kit and the end/star miss are from that models original hair, I pinned the first two connections but the pony tail tip is just glued. Then I green stuffed the base and tried to sculpt the waves into the waves of the actual plastic bit, it could do with some cleaning up but it's good enough for the time being.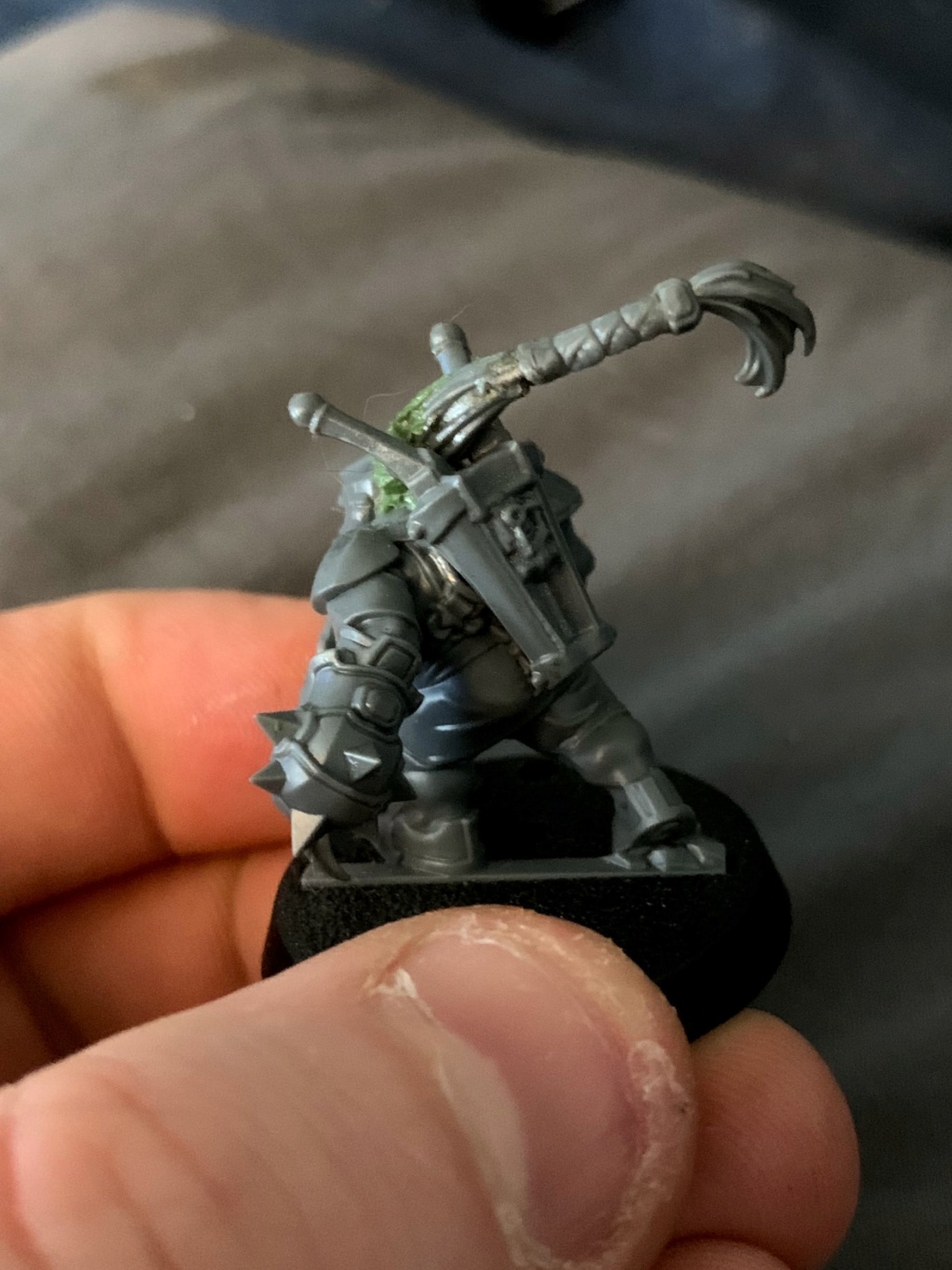 I also loved the hand mace this guy has, the engineer and the Nobel having a similar alternate weapon helps the cohesion of the group I think.
End
Hope you enjoyed this one! Expect more progressive pictures next time, I just got this far before deciding I wanted to make a thread. Let me know what you think!