Karak Norn Clansman
General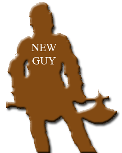 Posts

: 199


Trading Reputation

: 2


Join date

: 2014-11-03

Subject: T9A: Avras Fri 13 Oct 2017 - 5:55

---

Background & aesthetic proposals for Avras in the Ninth Age.

In short, I propose they include Byzantine-equivalent principalities and city states around the equivalent of the Aegean to set themselves apart from Warhammer and give a much overlooked part of history a bit of fantasy love.

Got any ideas of your own, or critique to share? Now's the chance to do so on T9A, while they're in the formative stage. Remember that T9A team is much more accessible for feedback and ideas than Games Workshop ever was, for obvious reasons.

Of interest for all who like historically based fantasy. Thought it would be of particular interest around here, Human-lovers.