----------------------------------------------------------------------------------------------------------------------------------------------------------------------------------------------------------------------------------------
My sale Folder >>>
SALE
https://smg.photobucket.com/user/Kaaleb_Dark/library/Miniatures%204sale
----------------------------------------------------------------------------------------------------------------------------------------------------------------------------------------------------------------------------------------
Payment by Paypal. Please mark your payment as a gift/family&friends to avoid unecessary fees or you must add a further 4% of the total amount. Thanks.
All miniatures are unpainted/stripped and in near mint/excellent condition! The darkened pre-slotta miniatures are from stripping&cleaning, that's no lead rot!!!
Miniatures would be very well packaged & ship to avoid damage!
Standard shipping from Germany to EU & US: £4,00 (up to 500g) /£6,50(up to 1000g).
Signed in/tracked (recommended) would be £2,50 extra.
I'm not responsible for lost miniatures thru standard postal way!
If you have any questions or an Offer....... PM me!
here we go....
NEW
*******************************************************************************************************************************************************************************
5 Nurglings (3rd Generation) £7,00
1 Wood Elves Beast Handler & 3 Boars  £20,00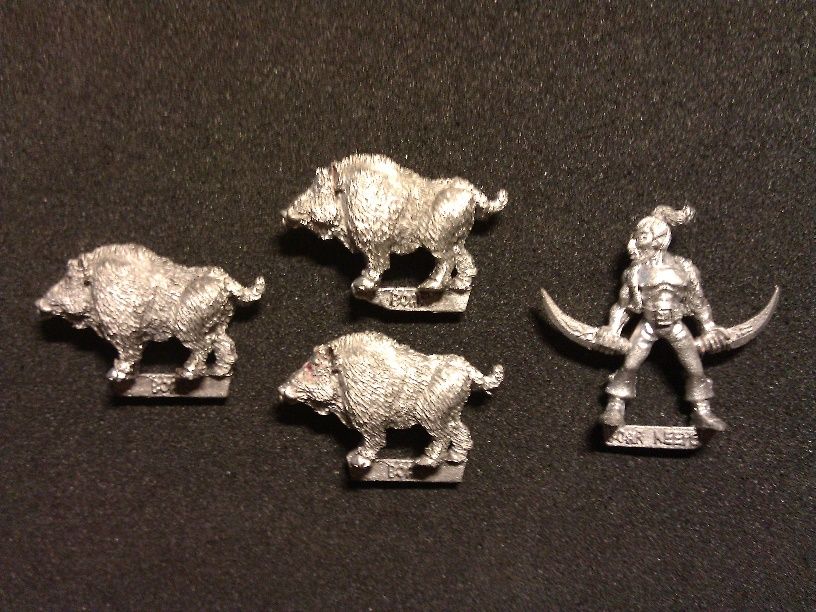 Wood Goblin Spider Rider Blister  £8,00
High Elves w/Spear(3) Blister £7,00
Talisman/Heroquest Chaos Sorceror/Wizard  £8,00
6 Grail Pilgrims  
SOLD
*******************************************************************************************************************************************************************************
Pic 1
1) Skeleton Horse £6,00
2) Blood Dragon 1
SOLD
3) Blood Dragon 2
SOLD
4) Goblin Fanatic £2,00
5&6) Dark Elves ea. £2,00
7) Boromir £3,00
Samwise £4,00
9) Chaos Dwarf
SOLD
10) Middenheim Youngblood £7,00
11&12) Mordheim Carnivale Nurglings ea. £6,50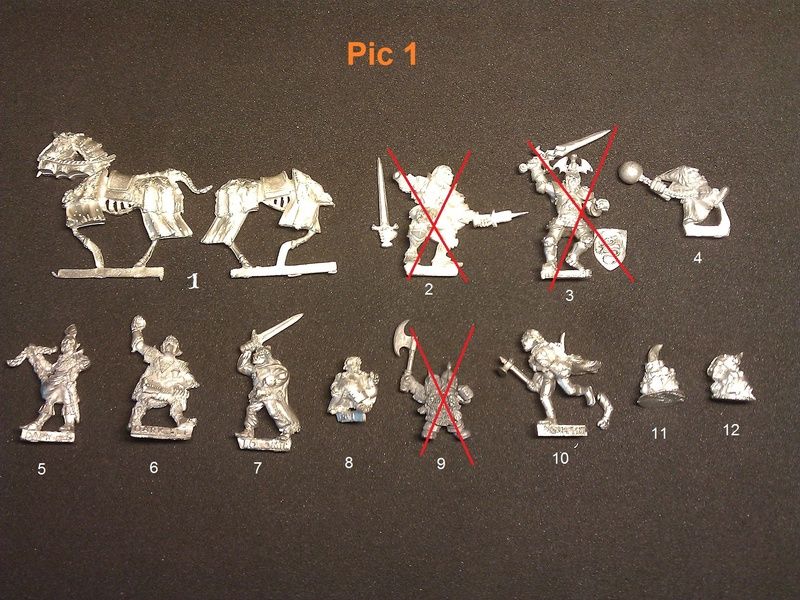 Pic 2
1-3) C15 Armoured Orcs  ALL
SOLD
4-6) C06/C08 Dwarf Warriors  ea. £3,00
7) Fa2-2 Wizard w/Staff  £3,00
C23/Runequest female Ogre  
SOLD
9) Runequest Duck Adventurer  
SOLD
10) Chaos Warrior  
SOLD
11) Chaos Marauder  
SOLD
12) C20 Troll  
SOLD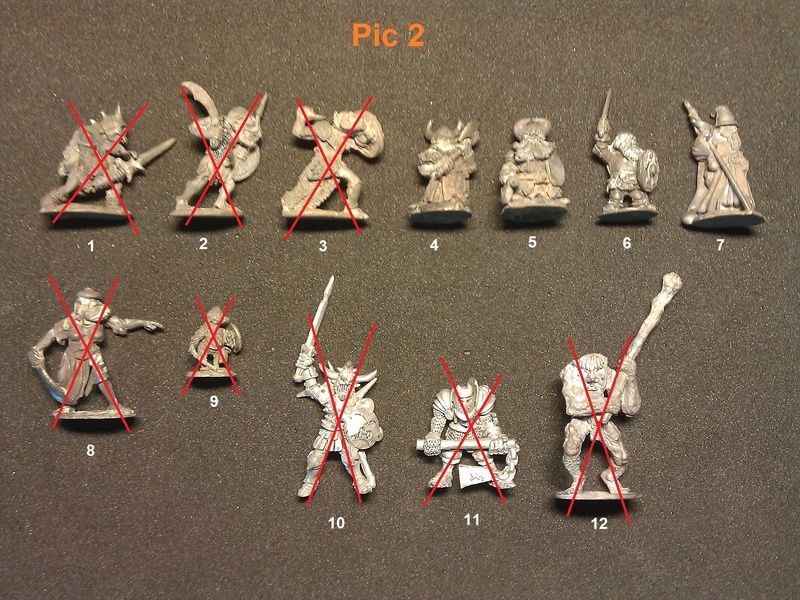 Pic 3
1) Collect Counter Wizard (broken Finger)  £35,00
2) Collect Counter Chaos Warrior  £45,00
3) C19 Lizardmen  £5,00
4) C02 Wizard (McDeath Scenario, broken) £5,00
5) WH Quest Orc Shaman  £7,00
6) ADD5 Illusionist Set £25,00 (Stage 2 can be a variant)
7) C11 Dragon Eggs ea. £6,50
C29 Young Dragon  £7,00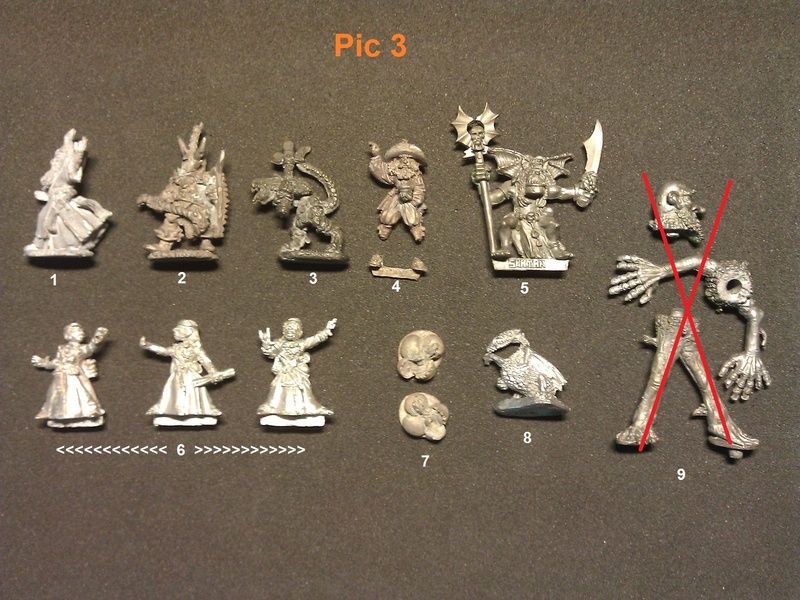 Pic 4
1) FAC27 Amazon w/Sword  
SOLD
2) FAC6 Bard w/Sword & Lute
SOLD
3) C25 Expedition Camel  £6,00
4) C22 Giant Cave Lion  £12,00
5) Ral Partha Giant Warelephant (NO Tusks) £6,50
6) RP01-007 Winged Serpent  £3,50
7) Giant Wolf £3,00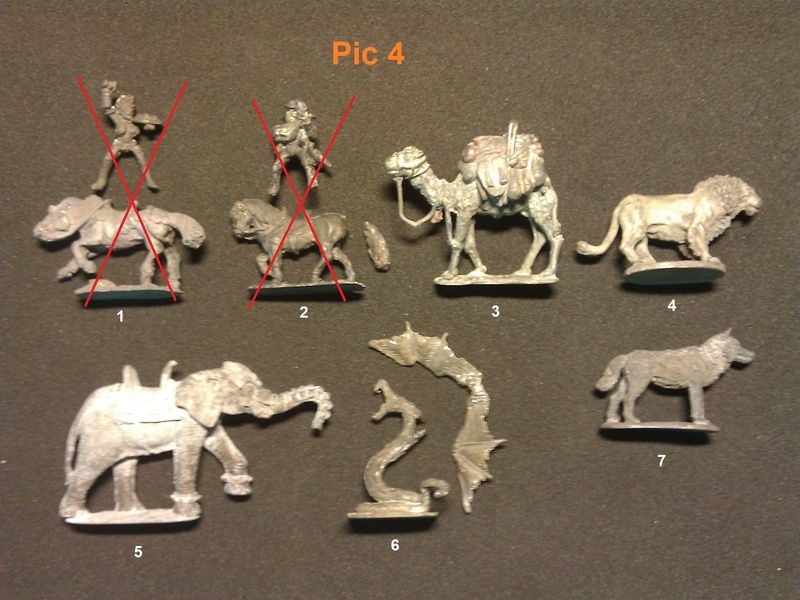 X40k
1) Assault Marine Sgt.  £3,00 (Armsprue not shown)
2-4) Assault Marines Trooper  ea.£3,00  (Armsprue not shown)
5&6)
SOLD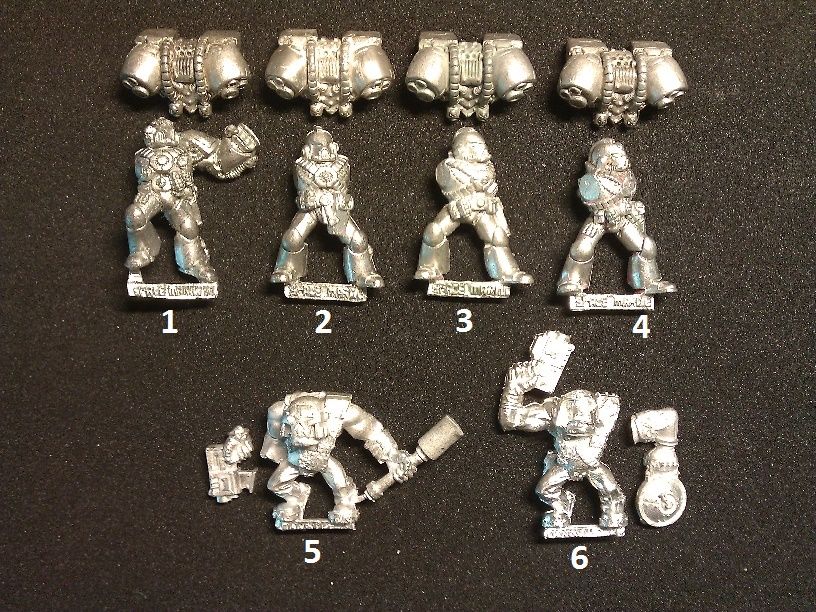 XKhorne
8 Khorne Berserker w/Decals (2nd Ed.)  £10,00
P007
Zombie Dragon 4th Edition
SOLD
Confrontation (1st Ed.)
1) Melmoth  £7,50
2)  
SOLD
3)  
SOLD