tuxedokman wrote:

lol the armpit hair is great!!
Yeah, I lol'd at first too, I mean, I don't expect barbarian brawlers to shave their armpits but the way the sculptor made it so prominent is a bit strange.
Anyhow, here's a small update. I got food-poisoned by some bad sushi today and thus got the time to try out a freehand for the first time and this is the result: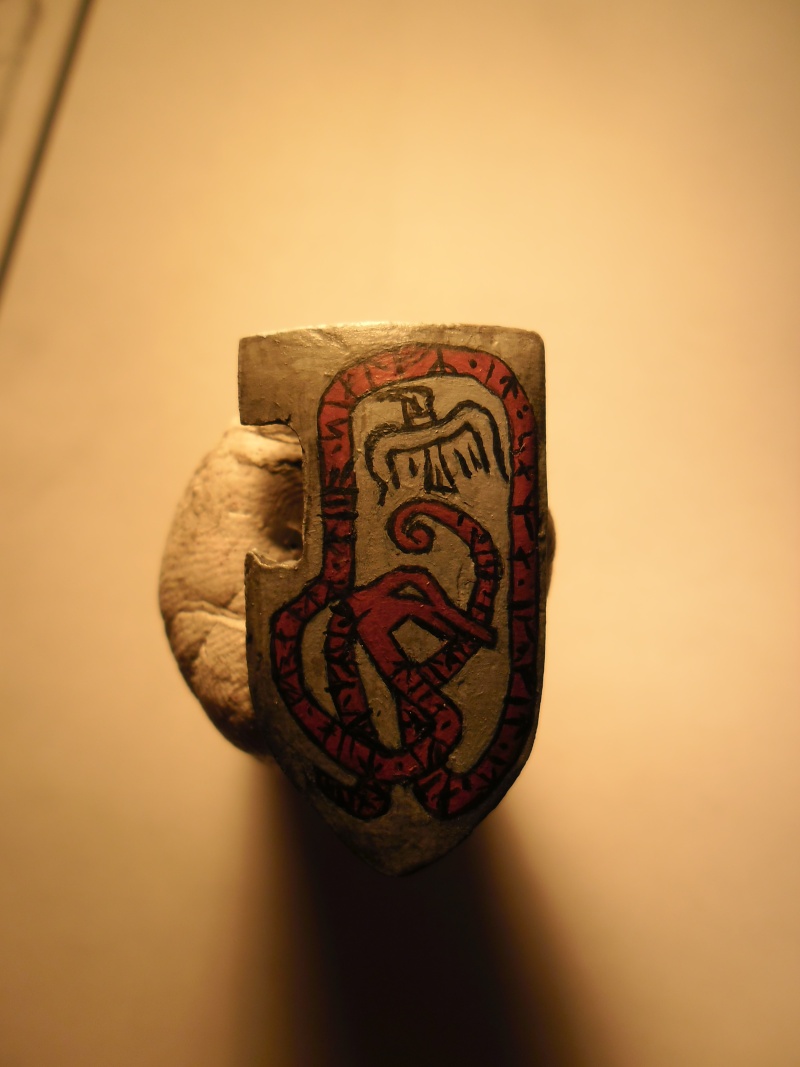 I intended it to look like a runestone carried as a shield. I took the shield that came with Ulfrik the Wanderer (who will soon be the carrier of this particular shield), filed it down, since I didn't really like the look of it. With all the skulls on the model and the human skin and yet more skulls on the shield, I figured I'd make it a little less crazy by filing down the shield and painting something interesting on there instead.
So, I went for a rune stone look, with the ubiquitous dragon. The dragon I decided to go with was the Midgard serpent, or Jörmungandr, the snake holding the world together by lying around its edges biting its own tails. My first idea was to have it be Fafnir getting slayed by Sigurd, along the lines of
this
piece of runic art. But getting that down on a shield that's about 3x1 cm wouldn't really go over well, seeing as it would be very hard to make out, so I figured I'd just have to make my own design and adapt it to the shield, as the rune carvers did with regard to the stones they had at hand. So, this was my original design: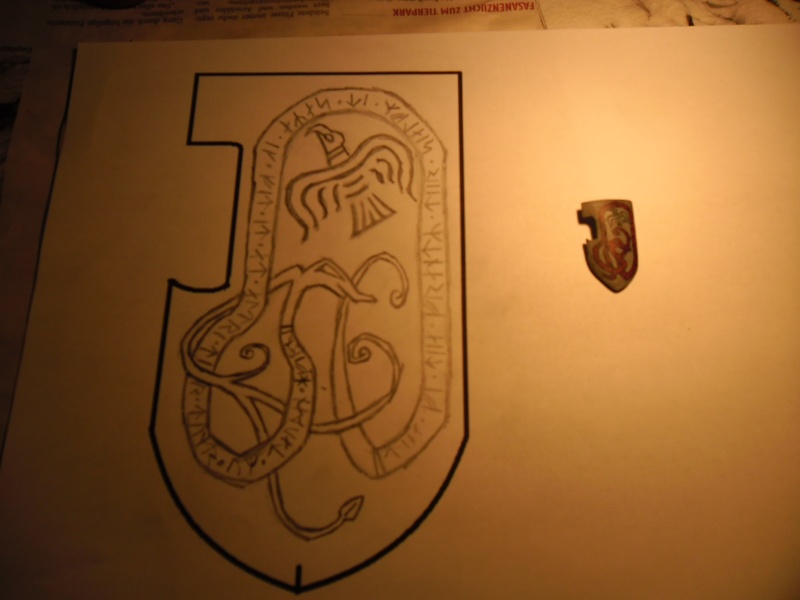 I did a rough outline of it on the shield, but at that size, it had to be made a little less graphically complicated, so I dumbed it down a bit, so that it could be accomodated neatly on the shield and also be a viable motif to execute with my very modest freehand skills.
So, since it's a rune stone carried by a bloodthirsty maniac, I just had to add a runic inscription. But what to write? Most of the runic inscriptions are boring as hell (during the course of my educaiton, I had to read them all... All 6 000 of them...) and they talk about a guy commissioning the stone to be raised in memory of a relative (or even himself) and often with a mention of the carver. Since I found it a bit, well, fucked up, to dedicate it to a dead relative, I painstakingly transcribed my favourite stanza
(no 77)
from the Old Icelandic Hávamál into the Younger Futhark script. It basically talks of how the way to immortality is to perform glorious deeds and having your name forever remembered, thus never truly dying (the translation on Wikipedia is inaccurate).
The raven is one of Odin's ravens, the main god of the Old
Norse
pantheon and also the god of war. This is based on the ravenbanner, which the vikings are said to have carried with them into war. I like the look of it and I intend to make it a recurring image on the rest of my warband.
But, I digress.
I still have to do some minor cleaning up of it and some more highlighting of the edges, but otherwise I'm pretty content with it. I didn't really manage to pull off the stone effect and it turned out a little too dark, but overall, I'm happy with it.