Hey.
As a way of keeping my mind off of real life I started thinking about the comedy value that might follow If this fellow made his way into Mordheim.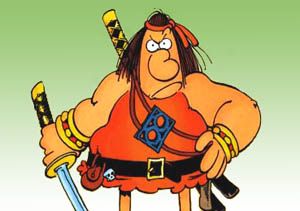 For those of you who don't know this man I highly recommend you read some of his adventures, written and drawn by Sergio Aragonés. They are hilarious. Read this for a bit more info.
http://en.wikipedia.org/wiki/Groo_the_Wanderer
I thought this might represent him
M 4
WS 7
BS 3
S 4
T 4
W 2
I 4
A 2
LD 8
Groo will move in a random direction at his base movement rate, if there is any model within LOS than he will move towards them. He will run towards any combat within LOS and charge if possible.
Equipment. 2 swords and a dog called Rufferto.
Special rules. All successful rolls made within 6 inches of Groo must be rerolled
If Groo spends two turns within a building, it will collapse.
Any Boat that Groo is in WILL sink.
Well that's as far as I got really.
Any Groo fans out there?