Greetings brothers!
I was overjoyed at the chance to play my first two games of Mordheim in roughly a year yesterday.
My newly painted guys looked great on the table, as did the warbands of my opponents, both painted by my friend of many years Andrew (peaoui over on Warseer).
Our mutual friend from school Mark was our third and we played two scenarios.
Game 1)
Skirmish
I took rather a lot of photos and will embed a couple but here's the link to the album for completeness' sakes.
I was rather pleased that our first game was going to be a straight fight as I was very rusty on the rules and didn't want to have to worry about objectives as well.
We set up in three corners of the table and rolled to see who would be going first. Mark one the dice roll but elect to wait for us. So I went first. I split my warband in two to protect both flanks sending a couple of heroes left and a couple right from my corner. The majority of the missle guys (three marks men and my captain with a brace of duelling pistols were facing off against Andrew's witch hunters and the fighters headed towards Mark)
Andrew's warband
the table as it was set up
With the first shot of the game one of my Marksmen rolled a six to hit and another to wound at long range having moved against one of Andy's witch hunters. The critical killed him. I was off to a good start!
Mark's warband was secretly orchestrated by Andrew's cat Felix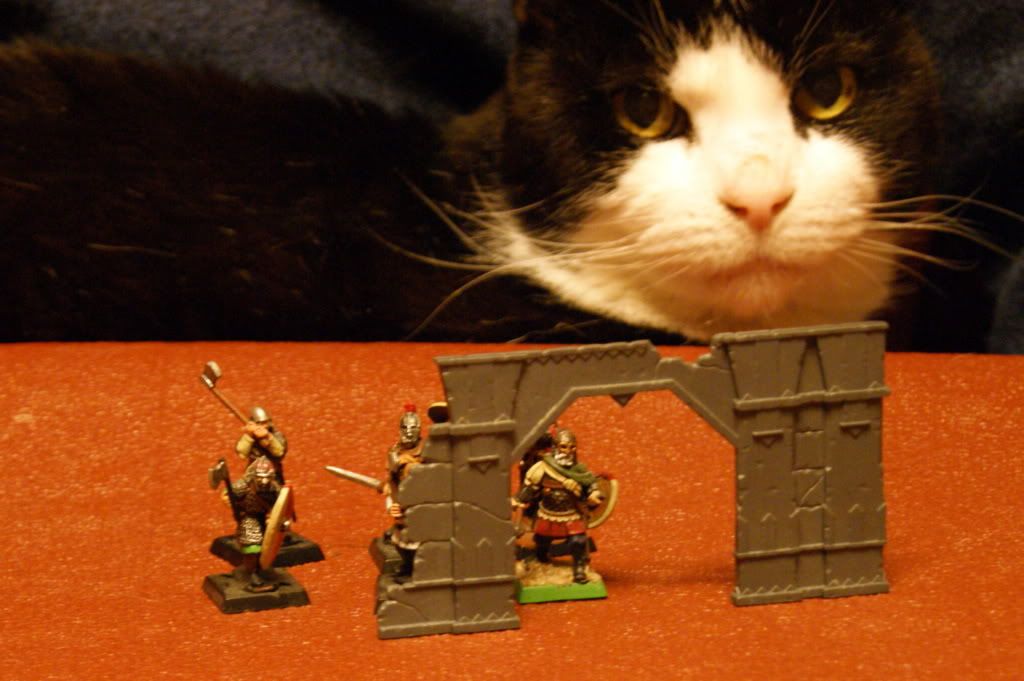 Andrew reacted by scattering most of his guys into any available cover
The table we used was covered in scatter terrain from Heroquest!
Andrew advanced his cowardly Leader using a meat-shield...
The battle heated up as another Witch hunter opened fire at my Captain and a Champion, my Captain was knocked down: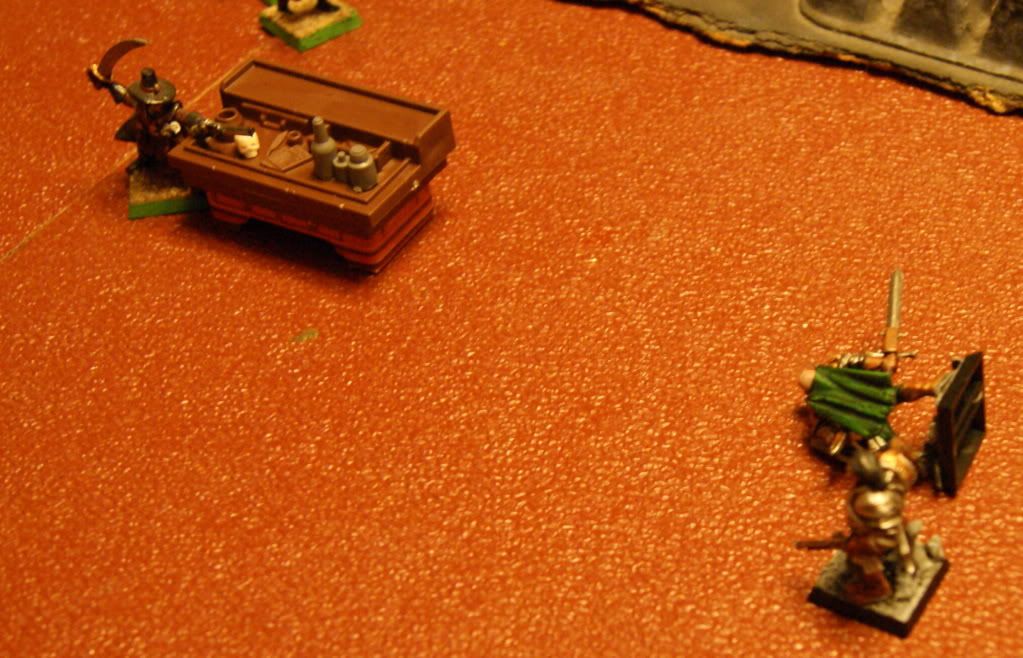 Meanwhile Mark's horde were advancing down my left flank. I took the decision to move into cover to avoid being charged and to hold my line. This allowed me to get some shots of with my young bloods before being forced into HTH.
Mark's guys were by now getting very close indeed.
At the other side of the table Mark had outflanked Andrew's Warrior priest and a henchman. I was beginning to feel a bet beleaguered as I had been under fire and attack on both sides for four turns or so. I was causing a fair few injuries but couldn't stem the tide for long.
Andrew passed his initiative test and flung himself across a table with his Witch Hunter into combat with my Champion whom he knocked down.
In angry response my, recently recovered, captain dashed the Witch Hunter to the floor.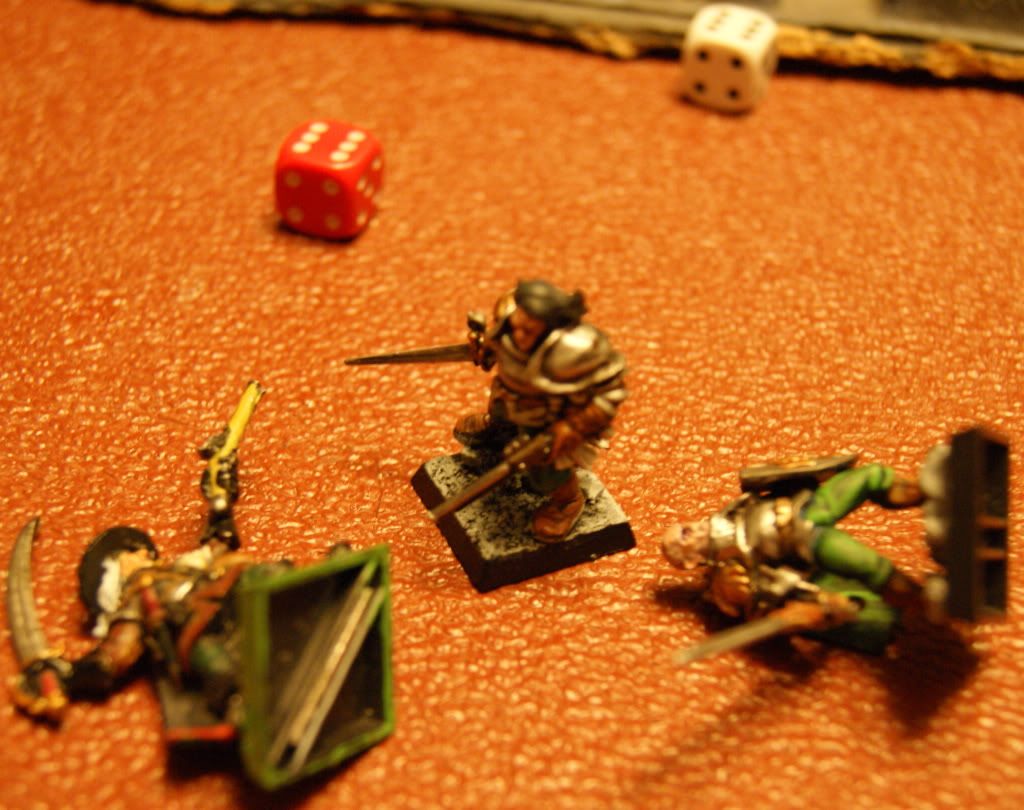 But he was swiftly felled by Andrew's leader...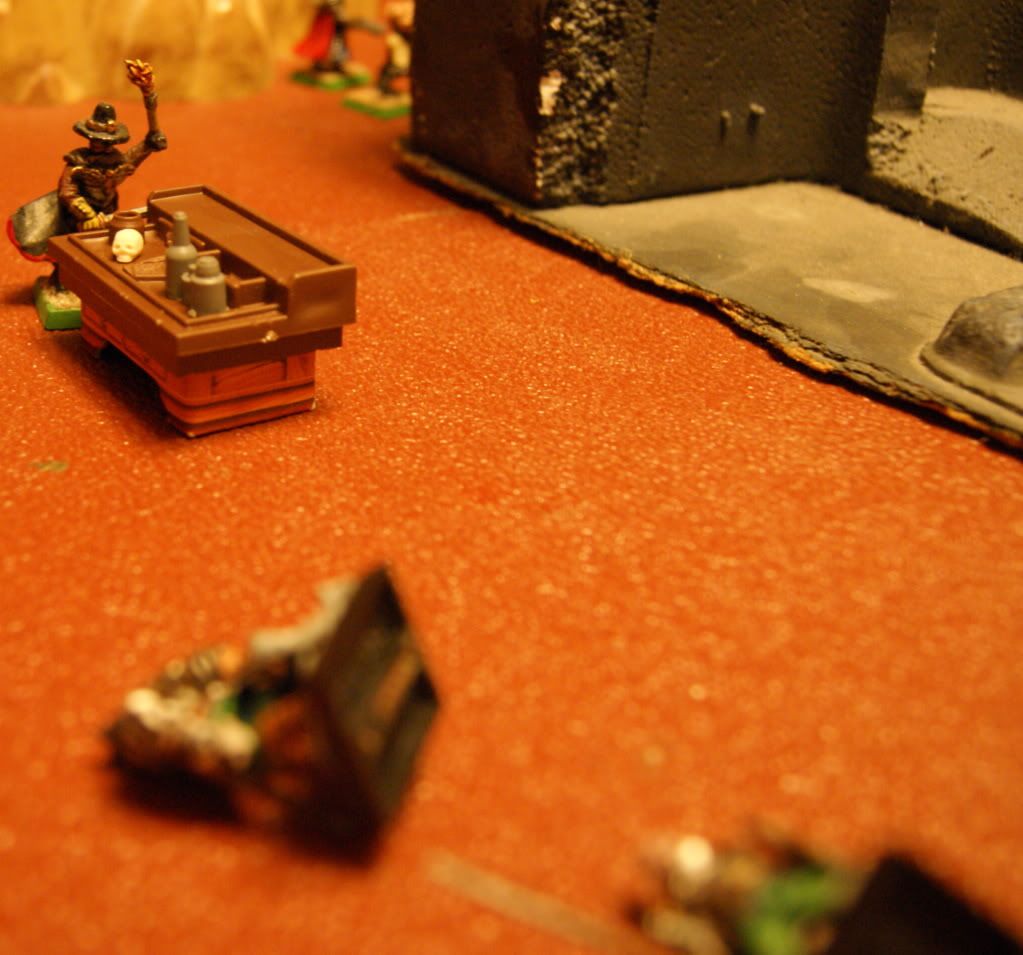 I finally lost the right flank against Mark and just couldn't bring any of his guys down with my marksmen. it seemed my early luck had abandoned me.
Mark's warband were victorious as Andrew and I routed in quick succession under weight of heavy casualties and some very high dice rolling.
the winners: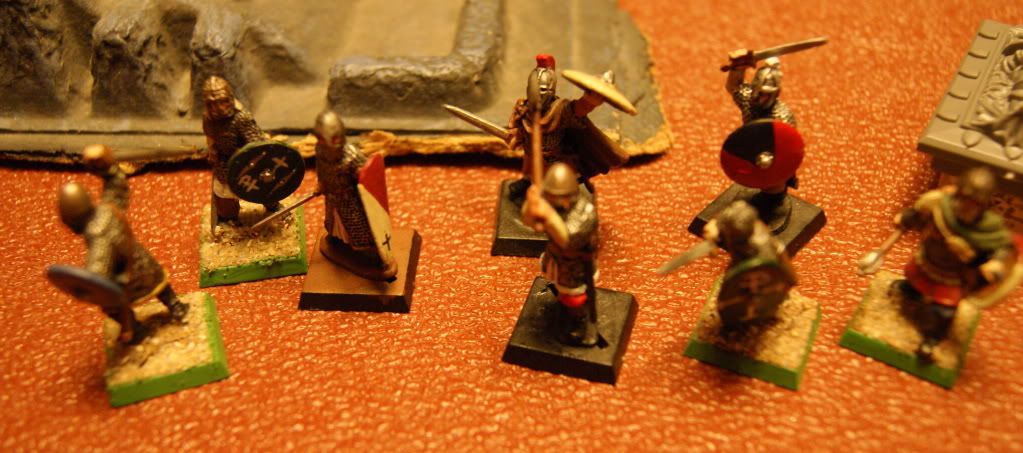 In post game I lost a warrior and one of my young bloods but made enough gold coins to kit my heroes out with a lucky charm each.
Well, I hope you enjoyed reading this battle report. I'll write one up for the second battle when I have a bit more time! I had a great game and learnt a lot of things.
thanks for now
Adam