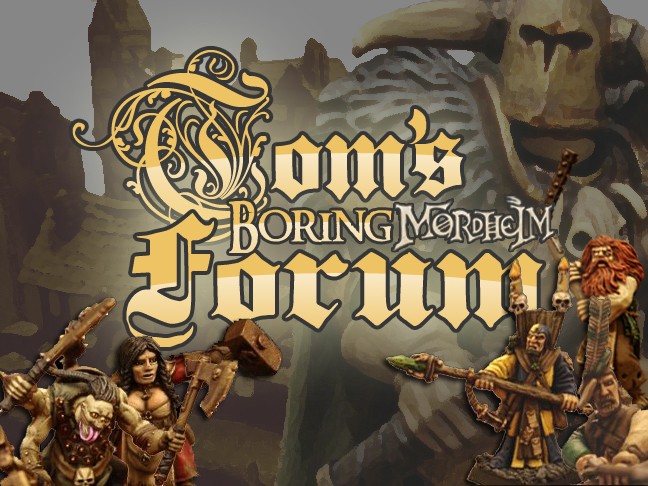 Author
Message
Eagle5
Captain





Posts

: 71


Trading Reputation

: 0


Join date

: 2010-11-26



Subject: Token Campaign Sat 4 Dec 2010 - 0:00

---

After our gaming group figured out it was better to have fewer models (more money per shard), max heroes (most exploration dice), and to limit losses with 2-3 henchmen OOA, and then voluntarily routing to get max exploration with limited losses, we knew something had to change. Those in the know (the powergamers) never fought until their warband was ready to be maxed out with good gear and their heroes, ironically, outleveled those who had been fighting all along (underdog expereince from fewer models). Once they started fighting, the advantage they had was overwhelming and they steamrolled anyone who hadn't used the cheese strategy. This needed to stop, and this is how we have managed it so far. Now, we haven't finished the campaign out yet, and it could take a bit, so if something crazy and/or broken happens, I'll post an update.

My solution was simple, yet effective, and doesn't imbalance the original game in anyway.

Tokens. That's it, plus a few simple rules for how they are obtained/taken.


Adding Tokens to a campaign:

Each warband starts with 5 tokens of their own. We represent them simply by drawing the initials of the warband on the roster sheet and putting a circle around them. Use whatever you wish.

When a warband wins a scenario, before anything else happens, they obtain a token(s) from the losing warband as follows:

1. One of the losing warband's tokens

or

2. If the losing warband does not have any of their own tokens remaining, the winner may choose one other token in the losing warband's posession as long as it is not one of their own.

Bonus: If the losing warband has any of the winning warband's tokens, they take one of them in addition to the normal token obtained from 1 or 2 above.

If you win, you will get either #1 or #2, plus the Bonus if it applies. The most you will ever get for a win is two tokens; one not yours, and one of your own. If the losing warband only has your tokens, you only get the 1 Bonus token.

Complete Sets: If a warband obtains a complete 5 token set of another warband's tokens, the tokens are immediately removed from the campaign. The warband that collected the complete set gets one roll on the Magical Artefacts Table. The warband whose tokens were turned in will never be able to obtain his tokens back, and will stay Demoralized (see below) for the rest of the campaign.

Penalties:

If your warband loses all of its own tokens, but still has tokens taken from other warbands, it is Demoralized and will roll twice for all Serious Injuries, with the opponent choosing which result counts. If either result is Dead, that result must be chosen regardless of what the opponent wants. The warband remains in the Demoralized state until it wins back one of its own tokens. This represents defections resulting from low moral because of the defeats they have received, and while they may not have actually died, they would sooner be dead than stay with that warband.

If at any time your warband does not have any tokens, the warband is eliminated from the campaign. Not only have you suffered loss after loss, but word has gotten out and nobody will join the warband. It is a complete wash.



That's pretty much it. Simply, but effective. Here's how it has changed our games.

Pros

1. Nobody does the 'no fighting' tactic anymore. With only 4 losses to give at the beginning, there is not enough time to develope the strategy.

2. It creates rivalries among the warbands. Yes, they are simple cirlces with initials on the warband sheets, but these silly little circles have fostered competition more than any story or map has done. It's amazing how one person teasing "I've got your toooooken, and you can't haaaaave it!" can get a vow of revenge when before the 'loser' would just shrug their shoulders and reap the rewards of their still-full exploration roll.

3. It rewards revenge, as beating a warband that had previously beat you gives you two tokens instead of just one.

4. It creates a strategy of its own in deciding which token to take if the losing warband has none of their own remaining.

Cons

1. It creates an elimination factor, which many groups won't like (our group prefers it).

2. Adding new warbands to an existing campaign will be problematic.

3. Possible con. I don't know how the end game will play out, as we haven't finished the campaign yet.


This addition to standard campaign play is aimed at keeping the core of the game the same, yet fostering heated matches, which it was done so far. It is intended to get the powergamers fighting instead of abusing the system. Stories wouldn't work (What? I have to save the town's people? Why? If I kill town's people myself, do I get xp (experience) for them? Why not? I don't care if I lose the scenario, they should count as xp!).

The 'complete set' rules gives warbands something extra to go for, and also prevents a few warbands having hordes of tokens at the end and needing to beat the opposing warbands 15 times to get final victory. I may have to modify the complete set bonus, as we already have people weighing the benefit of the Magical Artefact item verus the extra cushion of 4 more losses to give (having 4 of a kind, and purposefully not taking the fifth when you can).

The elimination factor can be a turnoff, but from what I've seen once a warband falls behind it is difficult for them to ever catch up anyway, even if they start a new one. Our group prefers it, saying the losers need to go to the tables reserved for those weird boardgamers. There, they will be forced to play Killer Bunnies over and over again until the campaign ends and a new one starts.

This caimpaign option and the alternatives listed below will probably appeal to wargamers, powergamers, and people who have no desire to see others prosper, but would rather crush them beneath the heel of their spiked, platemail boot (in other words, wargamers and powergamers).


Alternatives

Attrition Method (or "There Shall Be Only One!"):
Instead of collecting tokens, you can use them as indicators of what state of Attrition your warband is in. Each warband starts with 5 tokens. With each loss a token is removed. After losing their fifth and final token, they get five more tokens, but are Attrition Level 1. They subtract 1 for all henchmen Serious Injury rolls and 10 for all hero Serious Injury rolls, with minimum results of 1 or 11 respectively. If they subsequently lose their five tokens again, they go to Attrition Level 2, and subract 2 from henchmen, and 20 from heroes, etc. Attrition Level 5 yields automatic death for all OOA models. No collecting tokens, and therefore, possible endless back and forth. Eventually warbands will suffer a catastrophic loss from which they will never recover, and only one will remain.

'Nice' Attrition Method (or 'Fine, Play Weakling Mode, But in the End "There Shall Be Only One!"'):
Same as above, but for Attrition Levels 1-3, for hero Serious Injury rolls, you keep rolls of 61-66 without subtracting. This allows warbands in Attrition status to still gain positive injury results but still have a greater risk of death. In other words, Attrition Level 1 will only yield 11-46, 61-66 results. At Attrition Level 4, you can no longer earn positive results and you subtract 40. Level 5 yields auto death for all OOA models.

Horatius
Warlord





Posts

: 232


Trading Reputation

: 0


Join date

: 2008-09-01

Personal Info
Primary Warband played: Sisters of Sigmar
Achievements earned:


Subject: Re: Token Campaign Sat 4 Dec 2010 - 1:28

---

A very interesting idea. While i like the story approach with clearly defined goals more (like Border Town Burning) this is a nice and simple solution. In my group revenge and grudges develop pretty much without the need for tokens, but we do have one player who tends to hang back and use the tactics you describe. I guess it all depends on the style of play of your group.


StyrofoamKing
Etheral





Posts

: 1354


Trading Reputation

: 0


Join date

: 2008-02-16


Age

: 30


Location

: Chantilly, DC

Personal Info
Primary Warband played: Pirates (Unofficial)
Achievements earned: None


Subject: Re: Token Campaign Sat 4 Dec 2010 - 8:19

---

I agree... if you play with a very competitive group that is prone to cheesiness, I can see that this would be a great boon.

Sadly, if your group DOESN'T have cheesy players, it just makes the weak weaker and the strong stronger.... so good idea, but not for my group.

The token system is kinda neat, though... for a less competitive group, it might work, assuming you make the demoralized rules less severe, and/or have the tokens NOT removed from the game... maybe when you cash the five tokens in, they go back to their respective owners? (making you choose... do I want to promote myself with a small bonus to my opponents, or no bonus for me with a negative effect on my opponents?)

mweaver
Etheral





Posts

: 1382


Trading Reputation

: 0


Join date

: 2010-01-13


Location

: South Texas, U.S.A.



Subject: Re: Token Campaign Sat 4 Dec 2010 - 8:44

---

It is an interesting idea.

Von Kurst
Distinguished Poster





Posts

: 5608


Trading Reputation

: 3


Join date

: 2009-01-18

Personal Info
Primary Warband played:
Achievements earned: none


Subject: Re: Token Campaign Sat 4 Dec 2010 - 9:29

---

I'm just happy I don't have to worry about these problems at the moment. I am pleased that your group has been able to find a way to move on with the game.

Eagle5
Captain





Posts

: 71


Trading Reputation

: 0


Join date

: 2010-11-26



Subject: Re: Token Campaign Sat 4 Dec 2010 - 14:53

---

Well, so far the beauty of this system is it allows for an initial period of growth just like the regular game, whether you win or lose. Most of our warbands don't lose all 5 games at the start if they are trying, which gives them a minimum of 7 games to get their act together. Warbands that can't win more than one game out of 7 at the start are either not fighting or are bound for disbandment anyway, most likely.

Either way, you shouldn't have the issue that some campaigns have (especially the base campaign as written in the book), of it going on and on with no clear winner.

We've also had a warband that was on the brink or elimination, defeat two warbands that had beaten them before, and they went from one token left and demoralized to now having five tokens, two of them their own.

I have noticed two negatives, though.

One, warbands tend to stay too long in fights now, trying to eek out a win when they should just accept the loss. This is especially bad because if it is iffy on one of your turns, and you decide to press ahead, two rounds of combat later (yours and then your opponents) things could go from iffy to disastrous, leaving your with a crippled warband. I think this will fix itself as our group gets used to the new conditions, and people learn voluntary routing is better than a crippled warband.

The second is partially because we have several players with multiple warbands. Although one of our players (unfortunately for everyone else he's also arguably our top gamer) has a tendancy to do this in any multiplayer game once he thinks he's out of the running for the win. It's the, "If I can't win, neither are you" syndrome. Kind of like kingmaking, but here at least he can't target specific players as fight order is established at beginning of campaign. Good for me because he sees me as his toughest opponent and I'm

always

the target of this if he can choose it.

Anyway, this guy (our top gamer) has turned one of his warbands into an assassin squad. He gets as much protection against rout as he can, and then will not rout at all, ever, until completely wiped out if possible. His goal isn't to survive or recover his warband, but to decimate and cripple his opponents warband before he loses this warband completely. So far he has weakened one of the top warbands, and absolutely destroyed another. While the second one isn't in danger of losing all of its tokens for a few games, it is basically dead in the water, having lost its best hero and its leader. It will probably become a hit squad much like the one that crippled it for the reaminder of its games. The 'Assassin Squad' (he even renamed it that) has only one fight left before being elininated, and only has 7 models now, so it probably won't do much, but his next opponent is psyched out anyway

The rest of us are telling him "don't you

dare

let his assassins collect another token and keep going..." Which probably isn't helping

While this is fun, it wasn't quite what I intended. I've also noticed the people with two warbnds using the weaker one longer in fights than they should, also in an attempt to weaken other warbands. In future campaigns, either everyone will have two to make it even, or the second warbands will be in a separate campaign (for people who get bored waiting for other players who don't play as much).

Von Kurst
Distinguished Poster





Posts

: 5608


Trading Reputation

: 3


Join date

: 2009-01-18

Personal Info
Primary Warband played:
Achievements earned: none


Subject: Re: Token Campaign Sat 4 Dec 2010 - 20:45

---

Your group is fairly incorrigible.

Horatius
Warlord





Posts

: 232


Trading Reputation

: 0


Join date

: 2008-09-01

Personal Info
Primary Warband played: Sisters of Sigmar
Achievements earned:


Subject: Re: Token Campaign Sat 4 Dec 2010 - 23:55

---

Welcome to the wonderful world of Metagaming

.

On a more serious note: Maybe you should just get rid of multiple warbands for one player, this will avoid the problems you have mentioned above. And if you get less games that way run two campaigns in parallel for the people that can game more than the others.