Thanks for the comments all. Cinematic experience, eh? I guess I do like to try to tell a story with my pictures. I'm glad a little of it came through after all. I think I'll even write something to go with the next set of pictures, if no one minds... if you do, ignore my drivel and just look at the pictures. :3
Exactly one thousand years after the War of the Beard...
- A series of excerpts from the personal journal of Lady Scylla
... "Ah me, but I can barely contain even my own elation - I can scarcely blame the others for their misconduct. Their punishments will be lenient.
After all, this morning, just as for the past few centuries, I awoke in my beloved city to the same sky, that same, eternal, blue-gray haze of mid-winter twilight that has hung above us all since before I could remember; before many of us present here today could remember. For someone who has never seen the sun rise after so many years of life, it is incomprehensible. No description, no words can ever hope to do it justice. No artists' brush can ever hope to capture the stark magnificence I bore witness to today for the very first time. It as if a candle in my heart that has gone unlit for all my life has suddenly burst into flame and illuminated the entirety of my being. I feel as I have been sleeping all these years.
This morning has been an endless cavalcade of 'firsts' for me. After a thousand years of complete isolation from the outside world, Tuireanns'
spell had finally ended. I can scarcely recall the old elf from my earliest memories - a wizened, gray haired old elf, aged greatly with the burden of both the guilt of our self-imposed exile and salvation. His funeral procession, however, is still something I remember vividly. We gathered in the city streets in our thousands, just as we did this morning. What I would give to see him returned to the world of the living, if just for a few moments... to see the expression on his grim face; I daresay he might've even smiled, if the faces of our elders are any indication. I've never in all my life seen something so heartening as those ancient
elves
as they one by one took their sons and daughters in hand and beckoned to those distant, familiar peaks. Some of them, veterans from the Daemon Wars, finally had the chance to show three generations of
elves
the morning sun for the very first time. They die off one by one, year after year, and those lucky enough to see an end to this great endurance we have all suffered... I can't begin to imagine how they must feel.
Before them all, in stark contrast, went several small hosts to the gates of the city. We know not what has become of the world since our passing. We know not who won the great war. Whether or not we will arrive in a world overtaken by the dwarfs or
elves
, or something all together more foul, none can say. Will we be greeted by our elven brethren with open arms? It seems doubtful; all present know of the day when Ulthuan and the Phoenix Crown unknowingly turned its back on our city. Will the Dwarfs remember us, and as is it is likely so, how will we be remembered? Will they be the friends and allies of our founder, the great King Chorbadar, that the oldest of us remember well from those golden days of legend, or will they be bitter and vengeful, and continue their war after so long? Even reading the stories of their legendary ability to honor a grudge, I cannot believe they could still hate us after so long...
Our troop is presently setting out - I will write more at a later date.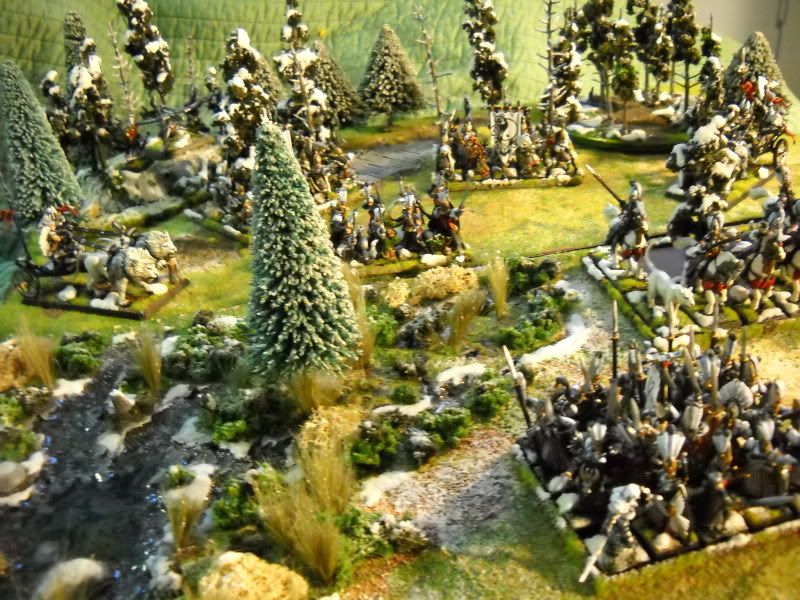 Three days later...
... The host has marched down from the high mountains of the Vaults and into the Theoi Pass, and still no sign of settlements, though there are ruins in abundance. Most are of dwarfen construction, though we have found several of our former outlying watchtowers and garrison forts - all are cast into ruin. Our scholars are quick to point out that all signs point out a systematic and deliberate destruction of our towers, most likely by dwarfs. It seems the old tales of dwarfen animosity are not as exaggerated as I had hoped...
The dwarfen ruins themselves however are curious. All fortifications show signs of having been left derelict shortly after our own were destroyed. Signs of a great earthquake are prevalent, though it was our understanding the Vault Mountains had long since traveled away from any active fault lines. It is most certainly the work of some great and terrible magic, but this seems beyond the work of even an Archmage such as Tuirean, at least by himself - could Ulthuan unleashed this devastation? Our own field mages are at a loss...
The skulls of many a goblin and orc have also been found, scattered among the ruins along with those of dwarfs, still clad in rusted armor - clear signs of battle. Certainly they would have taken their artifacts, weapons and armor along with them had they been triumphant... but how could wretched creatures such as they defeat the mighty dwarfen empire? Certainly they would have at least mounted expeditions to bury their dead? It is most unsettling...
In lighter news, I caught sight of my first Great Eagle this morning. The mages have told me they have conversed with them, and they will soon be returning to their ancient eries, high upon the cliff sides surrounding our city to join with their sundered kindred. I marvel at the memories of these noble beasts, and give silent prayer to Lileath that our own kin will accept us so easily.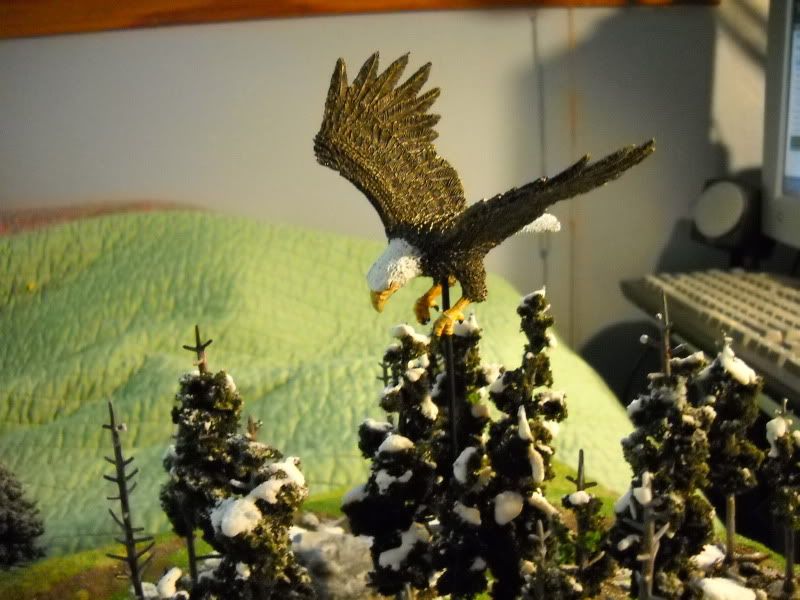 One week later...
... We have descended into the forested valleys, in order to rest and gather supplies and firewood. Our scouts find plenty of game and water, though they are loathe to collect firewood; our eldest-most scouts speak of the ancient pact with the 'spirits of the mountain wood'. We are all of us disallowed by Prince Nemeas from venturing into the forests to settle, and instead camp upon its fringe. Any elf caught taking an axe to a living tree is to be punished in full view of the forest as an act of appeasement. Scouting parties venturing into the pine forests report 'curious feelings of being watched' and our war-lions seem particularly on edge. I wonder, perhaps, have the spirits of the forest forgotten our part in protecting their mountain glades from the dwarfs?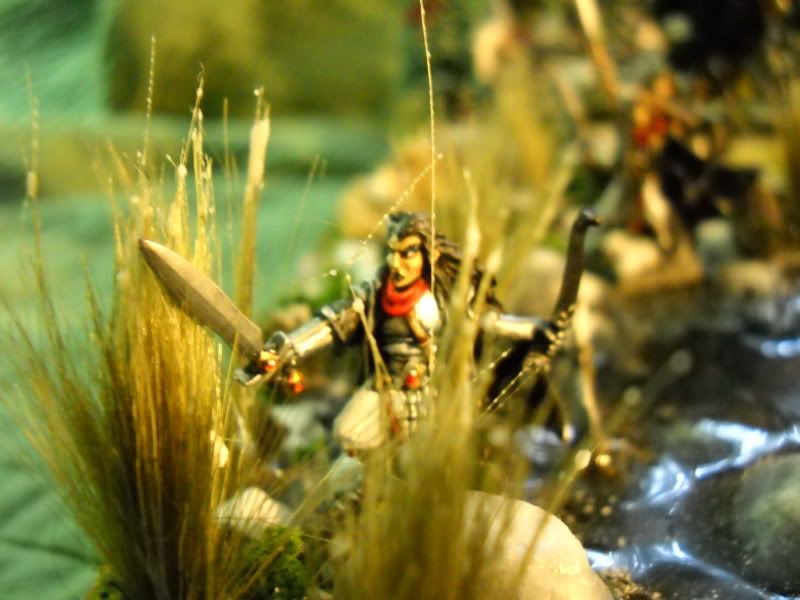 "I think there's something in the reeds over there..."
Three days later...
... we have been driven deeper into the frozen wood by inclement weather, and forced to camp within the sheltering bows of the ancient trees, despite Prince Nemeas' earlier concerns. More troubling, several of our scouts have gone missing. Search parties have been formed, however no remains of the scouts have been located. Troublesomely, dwarfen remains have been found along paths where there were no such signs days before... Personally, I believe the forest may resent us for leaving them unprotected for so long, and amends must be made. I have formerly petitioned Prince Nemeas with my concerns, however he seems fit to keep council with our cadre of advisory mages. My rangers and I have been relegated to guards for 'Princess' Kagero and her band of ruffians, much against my own wishes...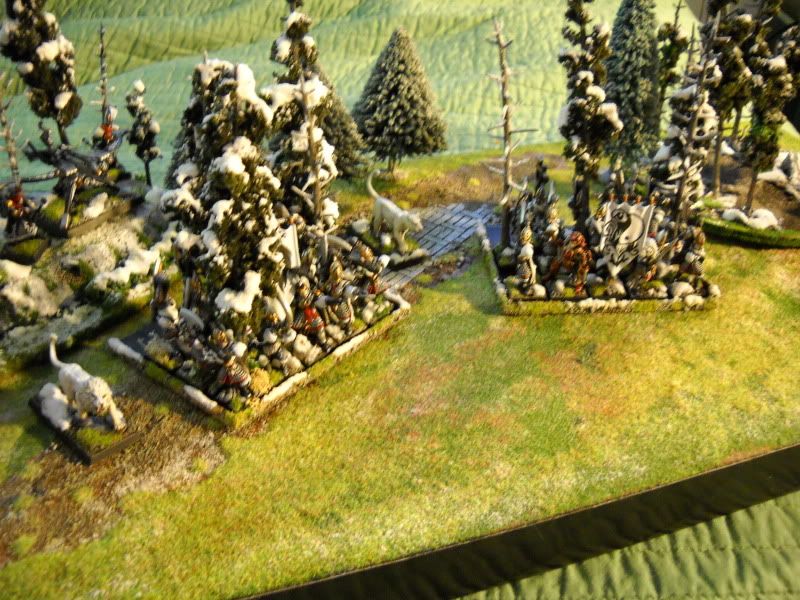 Two days later...
... Prince Nemeas has gone missing! After a particularly cold night, he had ordered Kagero and her troop of woodsmen to begin felling trees, lest we freeze to death. I attempted to warn Nemeas of his mad folly, and suggested we petition the mages to create some form of magical fire to warm us and the camp, but it appears he has misgivings about the safe use of magic. He no longer heeds their advice; now I fear he is beyond all aid. Though we spent the night in relative comfort, in the morning, we found Nemeas' tent in tatters and signs of a struggle between his honor guard and some unknown enemy. There are bloodied tracks in the snow... worse still, Kagero seems helbound on following them, and I am in turn bound in my duty to Nemeas' mad command to follow her... I fear this may be my last entry...
"There's something over there! Tally ho!"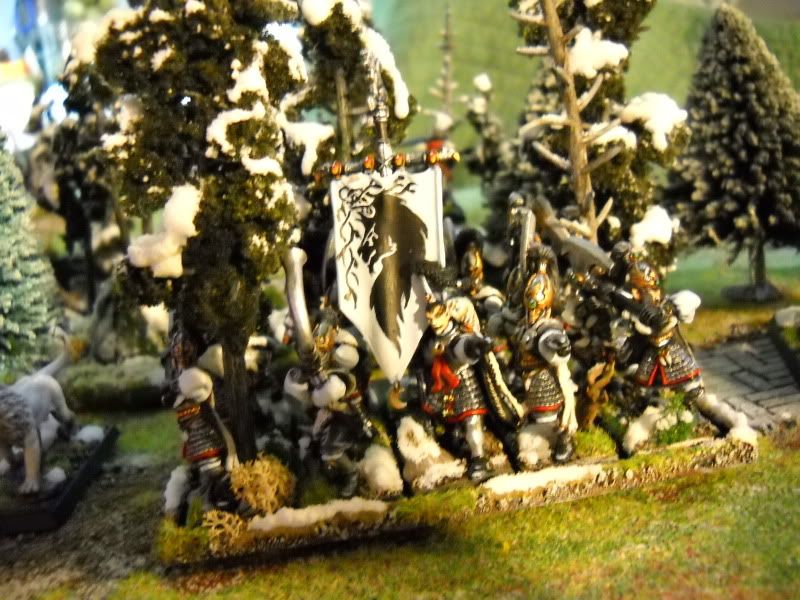 "You daft gits! It went this way!"
"That does it; we're heading back to camp. I have books I could be reading."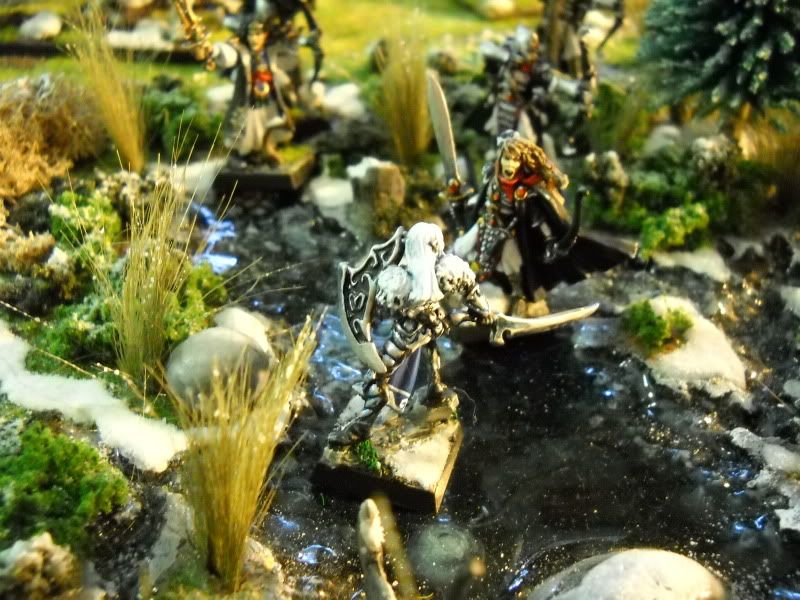 Two more days...
... After what feels like weeks, we have returned to camp after fruitlessly chasing shadows at the behest of 'Lady' Kagero. I swear... she infuriates me... running off into the woods, brandishing that ridiculous axe of hers at the slightest sign of danger and shouting for adventure. I can scarcely believe she comes from the same noble line as King Typhon and his forebearer, King Chorbador. I am beginning to think she is progeny of our lord and one of his damnable war lions - they certainly seem alike in temperament, but I respectfully digress.
"Back to camp! Glory awaits!"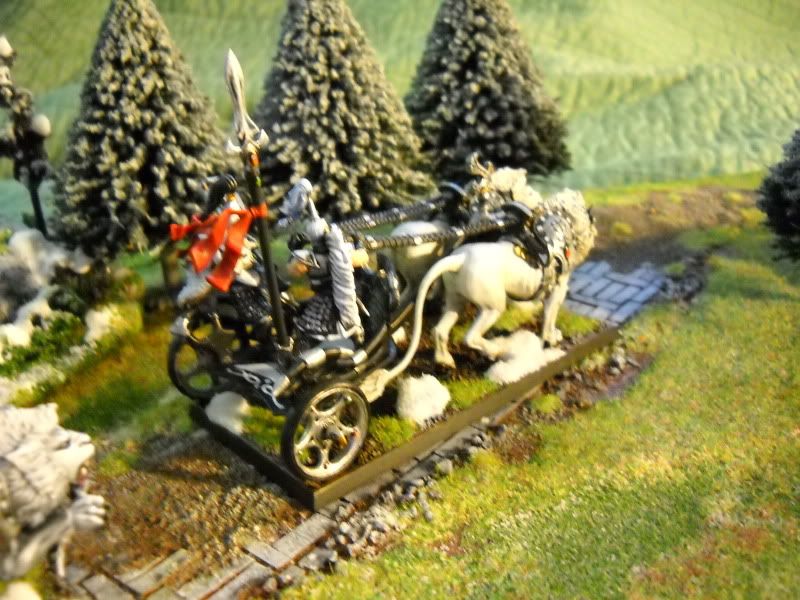 "... I think my Grandfather laid this road down back in the day. Did I tell you abou-" "Yes!"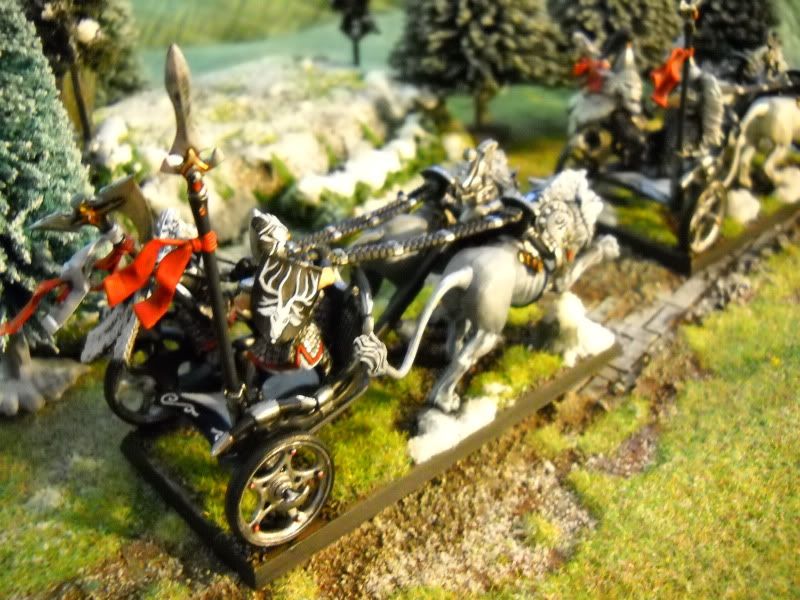 Upon our return, we found the camp in complete disarray - tents were torn to ribbons, and
elves
lay equally in tatters all about us. There are signs of a titanic struggle, but no sign of the enemy dead... only red-fletched, bronze-headed arrows of curiously intricate design. What
elves
survive of our number who did not accompany us on our snipe-hunt are near madness, and speak only of the anger of the forest.
... I honestly hate being right all the time. A lifetime spent reading about the adventures of others has cursed me with some knowledge of our fate. Kagero, in her unflappable, blissful self-confidence that I can only marvel at, has ordered us all to prepare fortifications, and for once, I am in complete agreement with her. We have sent riders back to the main host, requesting reinforcement and aid, but I fear we are all but surrounded.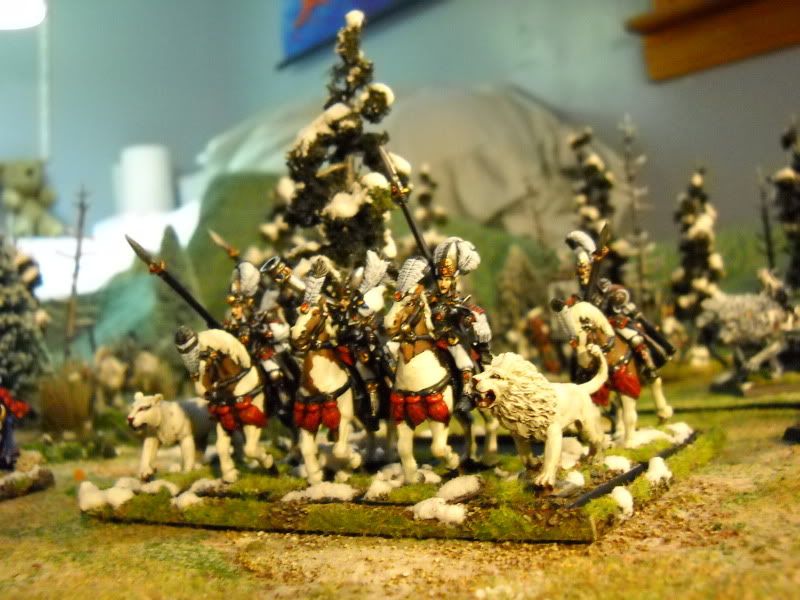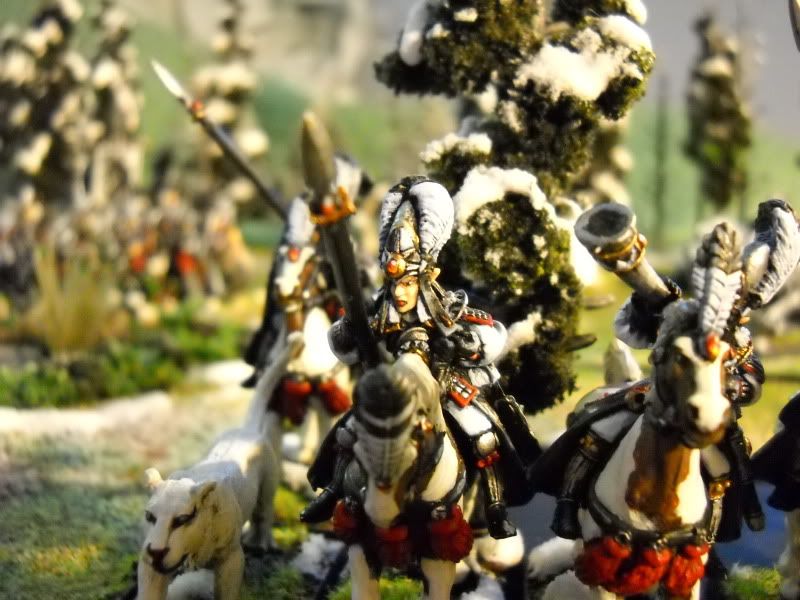 There is only one mage left, a distant relation of Tuireann named Cathgood.
Addled by the death of his betters, he seems of little use to me. He says his ability to scrye what dangers assail us is both greatly increased and confounded by some mysterious force. He says that escape is now impossible - we are cut off and isolated by some great, unknown entity, that he calls 'The Heart of the Forest', and we are now firmly within its web. Our brethren from other the other war hosts and logging expeditions are caught in similar traps... but when I spoke of resigning ourselves to death, he smiled in a curious fashion, and spoke of an 'ancient hope' - of several creatures of such staggering age, they remember the old pact, and could save us if we can manage to withstand the forests' rage for a few more days. Apparently, Cathgood and his late trio of mages has been attempting to stir them from their eternal slumber for well over a week, and he's just now finished by himself. Curiously, he speaks of one of these creatures above all others...
Kagero seems blood-mad with anticipation. While I disdain her recklessness, I will admit I'm glad for her company. A horn in the distance sounds; one of her woodsmen, I expect - I will write more, should I survive the coming battle.
"Skree!"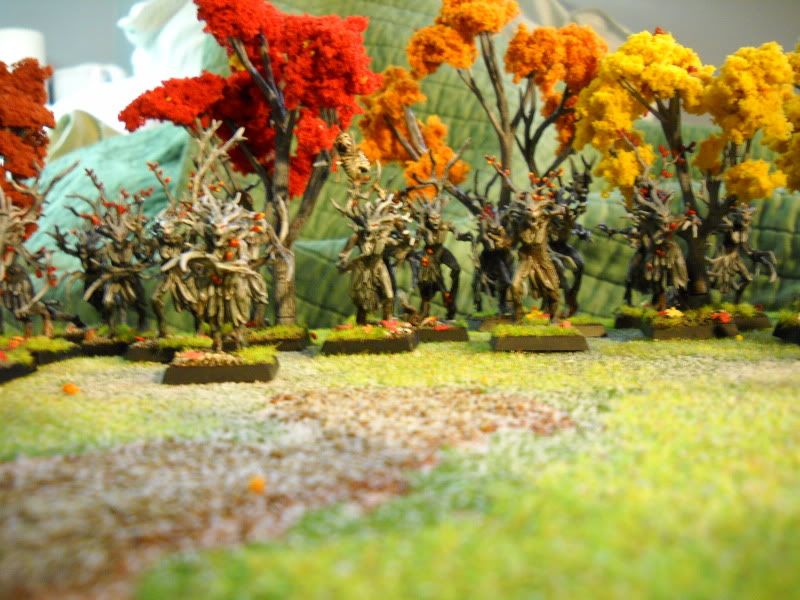 "Cityguard to the Barricades!"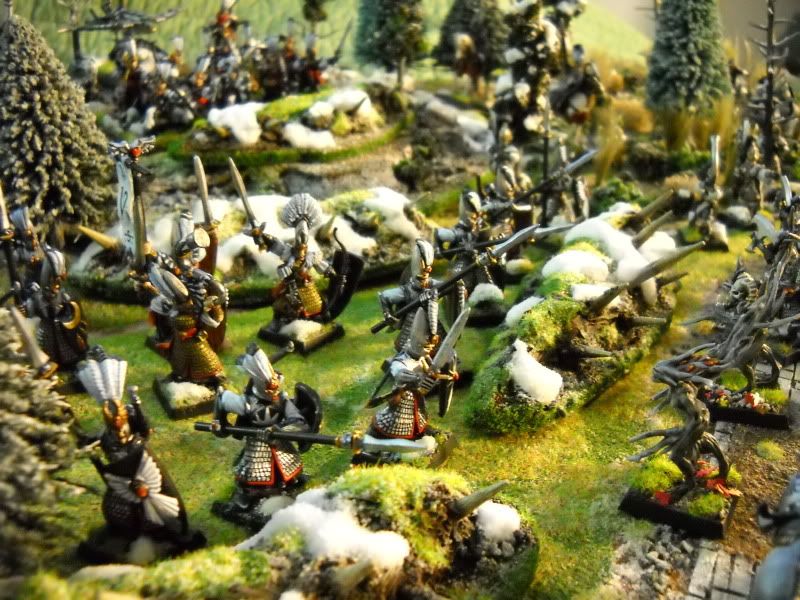 Chariots rush to stem the tide.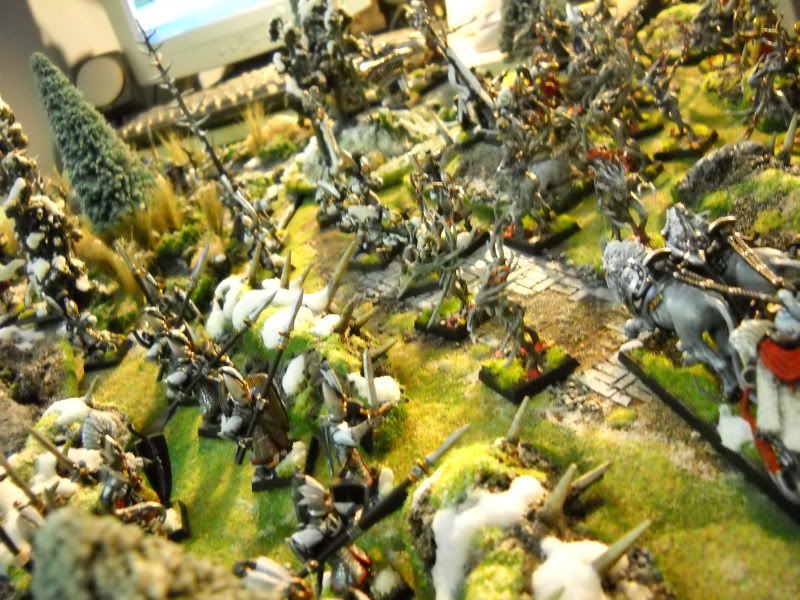 "They've breached the front lines!"
Scylla and her page protect a war machine...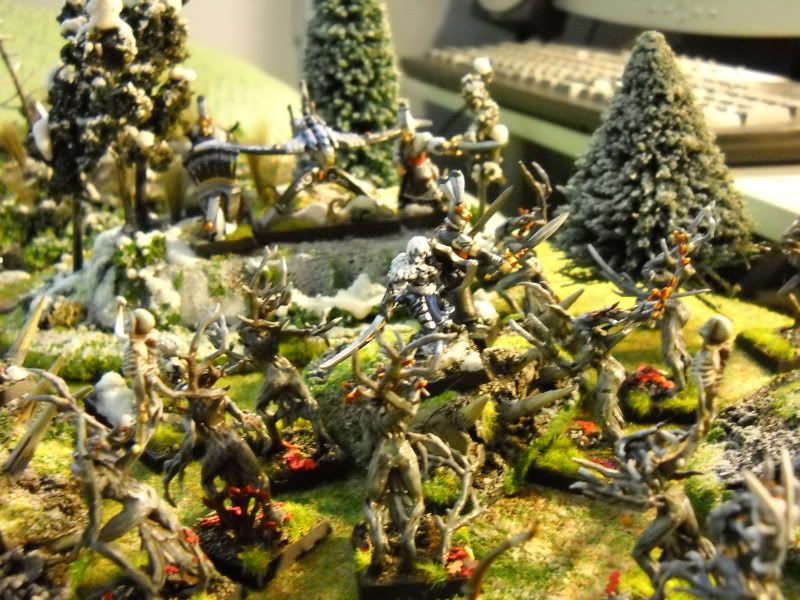 "What? Only 10 to 1? Are you stupid?"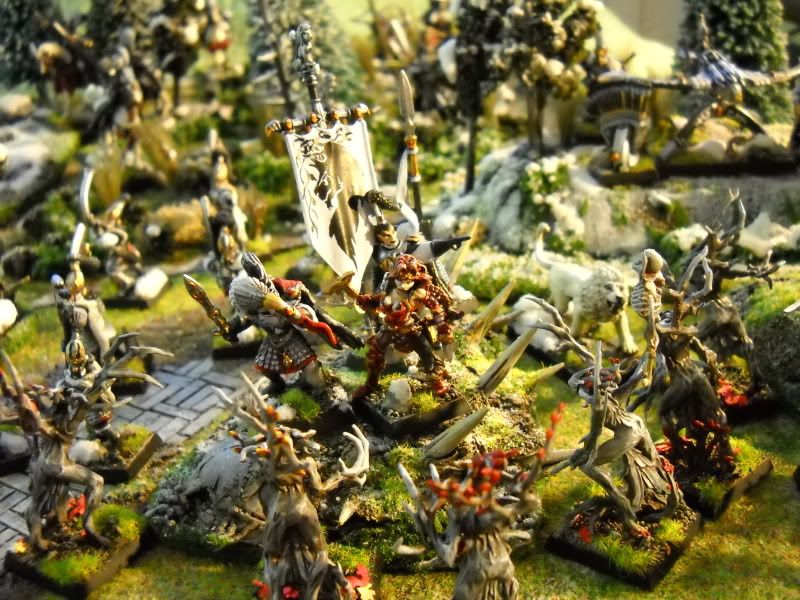 "Please stop goading the tree monsters."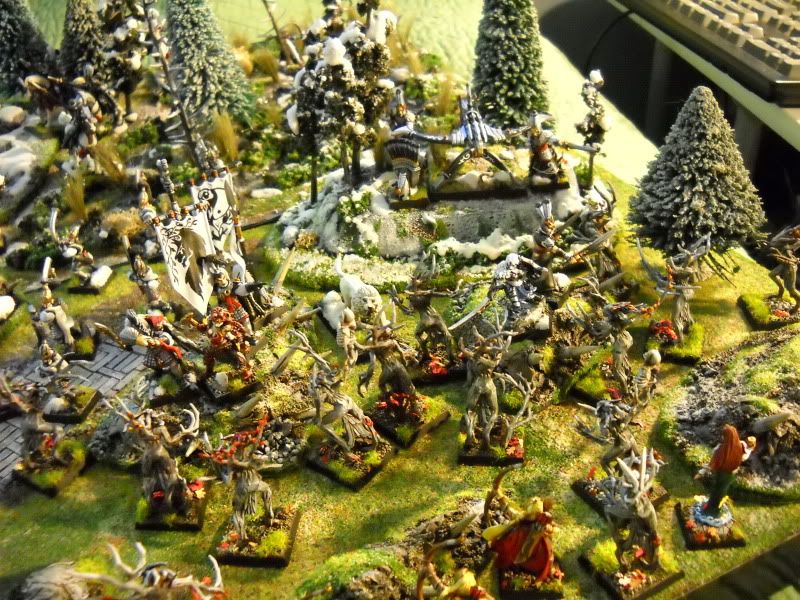 Will our unlikely duo of heroes and their band survive the onslaught of the Wood
Elves
?!
... Yes, almost certainly - their plot armor is impenetrable. :3